Sunglasses are considered a must-have for many. In fact the annual sunglasses industry sales revenue worldwide is $3,596,000,000. The incredible fashion appeal of sunglasses has expanded to include a wide range of trends and unique looks.
Sci-Fi Inspired Sunglasses
Get ready to beam up some serious style. One of the latest trends in sunglasses will certainly appeal to those whom possess a science fiction side. On the runways of Louis Vuitton and Thom Browne, futuristic, geometric shaped frames made of plastic and metal in basic shades of black were presented.
How to wear: Sci-Fi inspired frames come in shapes that are exaggerated or minimal, however, because the designs are eye-catching, the outfit worn with such frames should not be busy. Keep in mind the futuristic concept of the style and go for an outfit that consists of solid, monochromatic colors. Wearing a little metallic would even be a bit fun, just be careful not to make the overall look resemble a costume.
Edgy Geometric Shapes
Many of the latest frame shapes of sunglasses are anything but boring. Angular designs are on the horizon, featuring an array of edgy frames for women to choose from for their personal accessory collection. Geometric frame trends are made of either acetate or metal materials with dark or gradient lenses.
How to wear: With geometric sunglasses being a cross between modern and retro, the frames are perfect for fun prints and outfits with personality. Sunglasses are often a key component to making an outfit hip and iconic, so having fun with these frames is a must.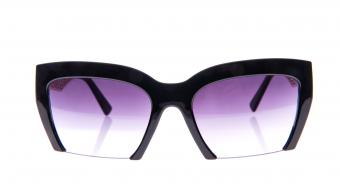 Aviators
Sunny styles may come and go, but one trend remains the same - aviators. These tear-drop shaped lenses resemble the protective eyewear of pilots. Aviator sunglasses are available in a range of materials such as wooden frames, plastic or metal. Some of the latest aviator lens colors are yellow, orange or clear.
How to wear: Style your aviator sunglasses with a casual, fuss-free outfit, such as a slim fit pant, blazer and shoe boot.
Aviators With Double-Wire
The design of double-wire frame aviators are similar to the traditional shape, however, the wire that goes across the top of the rim adds a hint of athletic appeal. Frames within this category are made of metal and plastic with a bridge that adds a casual flair.
How to wear: With double-wire aviator sunglasses, wear an athletic-inspired leisure outfit. A dressed-up outfit would not be the right look for a frame that is laid-back.
Round Frames
Although boldly shaped frames and aviators are growing in popularity, round frame sunglasses are still in the running as a beloved style. Designers such as Acne and Alice + Olivia presented circular frames on the runways. Round frame trends are made of plastic or metal and consist of dark or clear lenses.
How to wear: Round frame sunglasses are simple and create a look that simultaneously says geek, chic and cool. Whether you want to throw on a plaid shirt, jeans and loafers - round frame sunglasses have a down-to-earth vibe.
Oversized Sunglasses
The retro-inspired oversized frames of the 70s are no longer a trend of the past. Many designers such as Alice + Olivia and Marni have given a modern update to the throwback style. The sunglasses within the oversized category are made of either plastic, metal or a combination of both and are around 50mm and up in size. Oversize frames range from circular to oval to rectangular.
How to wear: Oversized frames correlate well with a retro-inspired outfit, such as wide leg jeans and flowing blouse. However, because the frames are funky, a style statement can easily be made when worn with a casual maxi cardigan, boots, and pants.
Bejeweled Sunglasses
Sometimes, you have to face the sun with a little sparkle. Several designers were all about bling in their upcoming collections when it came to sunglasses. With this trend, oversize plastic or metal sunglass frames are adorned with everything from glitter to gems.
How to wear: All that glitters is fierce. So, when you wear bejeweled sunglasses you should know that your outfit has to really be hot. However, be forewarned that when you wear these sunglasses, you do not need to wear a lot of jewelry, or your outfit will be too busy.
Colorful Lens Sunglasses
Want to see the world through rose colored glasses? How about blue, or even yellow? Well, lucky for you whichever hue you want to look through, you can. Wire and plastic frame sunglasses are filled with a colorful lens of various shades of all shapes, such as cat eye, round, geometric, and aviators.
How to wear: With colorful lens sunglasses, the main focus will be drawn to the color of the lenses. When purchasing a pair of colorful lens sunglasses, take heed of your complexion, hair color, makeup, and outfit.
Give Your Sunglasses a Personal Touch
Although some fashion-forward women only want to keep up their appearances and wardrobes with the latest trends, others want to look trendy but still have a personalized look. This is wear customized sunglasses come in. In fact, 4 in 10 millennials are interested in co-creating products with companies.
If you love the sunglasses trends listed above, but don't want to run the risk of being seen in the same pair as everyone else, there's an answer. Brands that offer custom sunglasses allow customers to add their own twist.
Individual
The concept of customizing sunglasses is not taken lightly with the company Indivijual. They offer a full line up of classic sunglasses for the woman who wants a customized timeless frame.
Prior to designing a customers frames, the step-by-step process begins with a Classic Custom order which takes into account a woman's face size, face shape, eye shape, nose shape, skin tone, hair color, eye color, and personality. To ensure the perfect fit around the nose, a mold is provided.
If you want to steer clear of sunglasses that are too trendy, this custom sunglass brand is ideal. Handcrafted customized sunglasses start at around $745. Customers of this brand are shoppers who prefer a timeless, clean design that is sharp and polished.
Knockaround
Founded by University of California art student Adam Moyer in 2005, Knockaround Sunglasses offers custom options that include a wide range of colors, patterns, and looks (such as glitter). Consumers can mix and match frame colors and patterns, choose lens color, and even add custom logos to their sunglasses.
The brand's styles have been seen on celebrities such as Jessica Alba and Ashton Kutcher, and have been featured on the Today show. Custom styles start at around $30.
Ray-Ban
Have you been looking for a pair of classic Aviators or a pair with the double wire, but want to be unique? Ray-ban lets customers create a customized pair of Aviators or any other frame of choice with initials, lens colors, and arms. To create your customized sunglasses, everything has to be done on the site. Several guides are available informing customers of frames, lenses and even tips on which styles are best for particular face shapes.
The price point for a pair of customized aviators starts at around $180. One cool way to customize your Ray-Bans is to create a gold pair with a tonal color lens and your initials. Ray-Bans are not simply for the Aviator lover, but also for the trend lover who wants something classic with an edgy touch.
Westward Leaning
Since it's launch four years ago, Westward Leaning has developed a cult following of fashion influencers and celebrities. Customers have a choice between shopping from the collection or custom frames. Within the custom frame lineup, shoppers have a choice to create on the website a choice of four styles, frame colors, lenses, materials and packaging, starting at around $205. For those who find themselves keeping a watchful eye on what celebrities are wearing, the customization offerings of Westward Leaning are worth indulging.
Sunglasses to Call Your Own
Having a pair of sunglasses that you can truly call your own does have its benefits. So, if you feel like you may have a budding sunglasses designer existing within, why not give your creativity a try and invest in a customized pair.