Owning a great skirt in leather has become de rigueur for any well-rounded wardrobe. Everyone from the most elite designers to the most accessible mass retailers have a version of the short leather skirt. Whether you're going for edgy, classic, or even a professional look, there is a style out there for you.
Recommended Styles
Short skirts have hemlines between 16 and 20 inches. Trendier styles like the super mini skirt have hemlines closer to 14 or 15 inches.
Classic Mini: You can't go wrong with a classic leather mini. Any mini like this version from Vince is timeless.
Super Mini: This style is trendier, but if you've got the legs, go for it! The Twiggy from Leather Cult is a great option.
Pleated: A pleated mini, like this one from Revolve Clothing, is a feminine, flirty twist on leather. You can find the pleated mini in both the standard short skirt length and the trendier super mini length.
A Line: An A Line skirt is especially versatile. The slightly longer hem makes it workable for the office or a night out depending on how you style it. This calssy A Line from Milly is a great example.
Where to Buy Short Leather Skirts
While many high-end department stores and mass retailers carry leather skirts seasonally, the Internet has made it easy to find one year-round. Check out your favorite stores' websites to see what's available. You can also shop at leather specialty sites, which generally offer a wider variety of style, size, and color options.
Online Specialty Stores
Leather Cult offers 14 styles in 33 color choices with 2 options for zippers. All skirts cost between $89 and $110 and are made to order for your exact measurements, so you can be sure of a perfect fit.
Leather Fads has over 75 styles of skirts, many short, starting at $150 and going up to around $300. They offer a range of color and sizing options, including custom.
Leather Icon sells a number of styles available in black, brown, or red leather in sizes 0-16. You can also order a custom skirt for your exact measurements. Prices range from $135 to $325.
Online Shopping Resources
Ebay is a great resource for leather skirts and your best bet at a great deal. Narrow your search by size, color, and length desired to make it super easy to find your perfect short leather skirt. Just be sure to ask for precise measurements from the seller as most items are not returnable.
Shopstyle is a fantastic online shopping guide that shows you skirts available from brands like American Apparel, Vince, Rebecca Taylor and countless others and leads you directly to where you can purchase them.
Web-Based Retailers
Net-a-Porter offers up top of the line designer leather skirts from Jason Wu, Gucci, Mui Mui, The Row, and more. Check out their sister site The Outnet for similar brands at bigger discounts.
Shopbop has a number of looks from contemporary designers like Gryphon, Dallin Chase, and Theory.
Amazon sells leather skirts from a variety of retailers and designers.
Department Stores
Barneys carries a number of options by fashion-insider favorites like Helmut Lang, Boy. By Band of Outsiders, and Altuzarra.
Bloomingdales has a handful of designs from trusted designers such as DKNY and Diane von Furstenberg.
Neiman Marcus has a great mix of classic and contemporary pieces from young designers like Alexander Wang and fashion institutions like YSL.
How to Wear It
When you're adding an investment piece like a leather skirt to your wardrobe, you want to be sure it's going to stand the test of time. Choose a style that is versatile and flattering for your figure. Also be sure to choose a length you're comfortable with. Neutral colors are the safer choice -- you will probably like them longer and they offer more styling options.
If you want to go for a statement skirt, choose a bold color and stick with neutrals for the rest of your outfit. It's important to try to incorporate various fabrics and textures into any ensemble featuring a skirt made from this material. You'll want to pair it with cotton, silk, and wool garments to avoid ending up in the leather version of the dreaded "denim tuxedo".
Avoid showing too much skin. Your legs are on display when wearing a shorter skirt, so stick to more conservative tops.
Tops
Don't wear anything too low cut or revealing. Your legs are the focus and you risk looking trashy if you show too much skin. For a casual look, pair your skirt with a basic tee. If you're shooting for a more professional or dressier look, try a silk blouse. Don't be afraid to wear prints -- stripes, florals, ikats, etc. are all great ways to liven up your outfit.
Shoes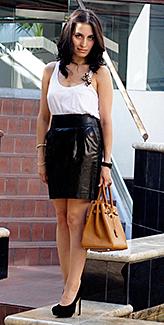 Avoid leather boots. It's just too much leather, period. High boots with short skirts is never a good look (think "Pretty Woman"). Keep it simple with the shoes. For daytime, stick with ballet flats or subdued heels. For nighttime, a studded pump or higher heel will look great. Suede shoes provide a nice textural contrast when wearing a leather skirt. Leather shoes work, too. Be sure to choose a shoe that is complementary or matching in color to your skirt.
Bags
During the day, carry a practical bag, but avoid anything excessively large for the same reason you shouldn't wear boots -- too much leather. At night, a clutch or small shoulder bag is the way to go. If your outfit is comprised of neutral tones, consider adding a pop of color with a bright handbag. If your skirt or any other piece of your outfit is already brightly colored, stick with a neutral toned bag.
Spring and Summer
A short leather skirt is still appropriate in warmer months. Just be sure to style it with seasonal pieces like sandals and a brightly colored top. You can show a little more skin in hot months, but don't go overboard. Keep the cleavage to a minimum.
Fall and Winter
During colder months, throw on opaque tights and a chunky wool sweater or a boyfriend blazer with your leather skirt. No leather jackets for the aforementioned reasons.
Caring for a Leather Skirt
Always check the care tag for your leather items. Leather skirts are more upkeep than most clothes, but with proper care they can stay in pristine condition for years.
Don't keep your leather skirt in a garment bag. Hang it somewhere that allows it to breathe so it won't dry out. Also keep it out of extreme humidity, direct sunlight, and high heat.
Professional cleaning is always the best option; however, it's expensive and garments almost always lose some of their dye in the cleaning process. For at home maintenance, keep leather conditioner on hand to treat the leather and keep it supple. After conditioning, hang it up and let the wrinkles fall out on their own. For more details on caring for leather, visit Leather Association.