There are few fashion garments more timeless and feminine than a French lace pencil skirt. Introduced by designer Christian Dior in the 1950s, the pencil skirt became synonymous with sexy. Not only does a pencil skirt hug and accentuate a woman's curves, it is also incredibly versatile and can be dressed up or down for nearly any occasion.
Budget-Friendly Skirts
The great news about finding the perfect skirt is that you can afford a great one, even if you are on a tight budget. Fast fashion retailers are mimicking the trends seen on designer runways at a tiny fraction of the cost, making it easy to snap up the perfect skirt for under $50.
Versatile Neutrals
For a great style in a versatile neutral color, try the Thalia Sodi lace skirt from Macy's. Macy's is known for quality merchandise and frequent sales, so you can rest assured you'll get a few seasons wear out of your skirt. Priced at just under $50.00, this skirt features lace with a scalloped edge. It is available in both black and nude, which are versatile neutral colors that are easy to pair with many other hues. Go for black if you want a more slimming style, or opt for nude for a polished, classy look that is ultra-feminine. This skirt is only available in sizes XS through XL. Returns are permitted withing 30 of buying with your receipt.
All Over Lace
This pretty openwork lace skirt from H&M offers a classy, yet slightly sexy look for about $40.00. While the skirt itself is about knee-length, the lining stops just above the knee for a unique and alluring style. Available in black or powder pink, this style can go from day to night depending on what you pair it with. A matching blazer and white blouse make it a perfect daytime look, and pairing it with a fitted v-neck top or sweater make it perfect for evening wear. It is available in sizes two through 12 and returns can be made within 30 days of purchase.
For a plus -size skirt option, Macy's Alfani Skirt, available for about $25.00, offers a sleek and pretty all-lace silhouette. Available in black or white, it has a subtle design that is both elegant and versatile. The slightly shorter hem (just above knee length) means that it shows off more leg - although this could also be a pro if you want to show off your great gams and love your lower legs.
Edgy Style
If you want to mix things up with a pencil skirt that has an edgier look with lace, the unique lace skirt from Hot Topic might be what you're looking for. Done with black lace over a nude underlay and two types of lace, this above-the-knee skirt offers a bold, fun look that is different from many traditional pencil skirts. This sexy skirt will also hug curves in all the right places. Available in small, medium, or large for approximately $35.00, this skirt is great way to add a trendy piece to your wardrobe without breaking the bank. You can make returns at Hot Topic within 30 days of purchasing with your receipt.
Moderately Priced Skirts
When buying a moderately priced skirt, focus on sussing out the quality of the garment. Since these skirts are priced from $50 - $150, you'll still be making an investment in the piece and want it to stand the test of time. Make sure you truly love the piece before deciding to keep it - which means it's a good idea to focus on buying a mid-range skirt from a store with good return policies. Great places to purchase include stores known for their high-quality construction - J. Crew, Banana Republic, Nordstrom and Bloomingdale's are great places to start your search.
Peplum Hem
Not only does this Geo Lace Skirt from ASOS have a gorgeous pattern, it could easily become a yearly staple in a summer wardrobe. The peplum hem is just different enough to make it a statement piece, and the pale creamy hue is flattering on most skin tones. The lovely cream color, however, means that it will be harder to wear this skirt year-round in fall and winter seasons. It is available for about $100.00 in UK sizes four through 14. Returns are accepted within 28 days of purchase.
Knee Length
This Lauren by Ralph Lauren Scalloped Lace Skirt from Bloomingdale's is the quintessential black lace pencil skirt - it doesn't get any more perfect than the knee-length silhouette it offers. Ralph Lauren knows how to make staples, and this is guaranteed to be a closet mainstay for years. Another pro is that tt also comes in a plus size version for women with curves.The only con to this skirt is that it is priced on the higher side of the mid-range options at $135.00. However, if you are looking for just one skirt to buy that will last for years, spending a bit more is likely worth it. You can make returns for refunds or exchanges at Bloomingdale's within 30 days of buying.
Lace Hems
This Vince Camuto Lace and Tweed Hem Pencil Skirt from Nordstrom's fuses the classic lace look of a tweed pencil skirt with beautiful lace trim, making it both versatile and unique. The addition of tweed to the lace pencil skirt means that it's a more appropriate choice for fall and winter. The material will make the skirt too warm to wear in summer weather, however. It is available in regular and petite sizes zero through 14 for about $120.00.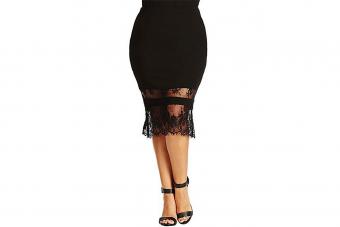 You would be hard-pressed to find a sexier option for a pencil skirt done with lace than the City Chic Plus Size Lace Hem Pencil Skirt, also available at Nordstrom. The sheer lace at the bottom allows a little leg to show through for a sexy yet subtle peek-a-boo effect. It will instantly become a date night and cocktail party closet staple. The sex appeal makes it tough to get away with wearing this skirt in the daytime or to the office, though. Stick with simpler, more covered-up options if you are seeking a skirt that can go from day to night. It can be purchased for about $70.00.
High-End Designer Skirts
If you want to invest in a quality piece that will add timeless style to your wardrobe, a designer skirt is worth consideration. Top-notch materials and careful attention to detail mean you'll have a skirt that will have a place in your wardrobe for years to come. The classic feminine appeal of lace never goes out of style.
Versatile Black
Like the moderately priced Ralph Lauren skirt, this Kobi Halperin Madalynn Pencil Skirt from Bloomingdale's is a must-have wardrobe workhorse. Pair it with a denim button down for a daytime look, and swap out the shirt for a dressy silk sleeveless number for evening events. The options are endless, and the basic black color allows it to be worn year-round. It's a beautiful option, but a pricey one. Available in sizes zero through ten, this skirt retails for about $500.00.
Gorgeous Metallic
This J. Crew Deco Skirt in Metallic Lace is drop-dead gorgeous and makes the perfect pencil skirt for New Year's Eve or an important night out when you want to dazzle. The lace is woven into an Art Deco pattern with gold-colored thread, making it a truly special piece. Though stunning, skip this skirt if you do not already own one or two lace pencil skirts that you can wear. It's a better choice for a special occasion, and is too loud for the office or wearing in the daytime. You can get this beautiful skirt in sizes from triple zero to 14 for about $850.00.
Floral Lace
This Rebecca Taylor skirt, available at Neiman Marcus, features unique dotted-stretch jacquard sides, making it a more interesting choice than a traditional style. The color is slightly different as well, with a unique black-navy color that's slimming, versatile, and easy to take from day to night. The fact that it's not the usual black color also make it easier to dress this one down for a brunch date with girlfriends or a day at the office. Simply add a sweater over the skirt for a chic daytime look. It retails for about $400.00 in sizes two through ten. Since it's not the traditional black, it can be slightly harder to pair tops with. Returns can be made within 60 days with your receipt.
Asymmetrical Style
This Victoria Beckham Crepe de Chine Lace Trim Pencil Skirt, available in UK sizes six to 12, functions just like a basic black skirt, but the asymmetrical lace detailing at the bottom takes it from ordinary to extraordinary. The lace is subtle, so this skirt can easily become a closet staple for 10+ years. At the priciest of these skirts, this one rings in at around $1,400.00. It's definitely an investment piece, and not a skirt to buy on a whim. Returns are allowed withing 30 days of purchase.
Shopping Tips for Finding the Perfect Lace Pencil Skirt
When you are hunting for the perfect choice, be sure to take a few factors into consideration.
Body type: First and foremost, know your body type. Although pencil skirts all have a similar silhouette, the fabric, stretch, color and flare of the bottom of the skirt can have a very different impact on the way the garment fits your body.
Try different options: Next, remember to try on at least five to ten different options without becoming discouraged. Shopping for a specific piece of clothing can be tough if you don't find the right option quickly. Know that even size 2 ladies have to try on a dressing room's worth of clothing to come out with one good piece.
Shop where you can return: If you don't find the right pencil skirt for you in the first shopping excursion, just remember to try, try again. Stores that have great return policies and an easy-to-navigate website are prime places to shop since you can scan hundreds of options within an hour or two, and order a few of your favorites to be tried on in the comfort of your home. Don't like them? Simply take them back to the brick and mortar store at your local mall, or pop them back in the mail after printing out a return label - make your shopping experience fun and easy.
Feminine Style
Choosing a pencil skirt done with lace offers a feminine style that's a great addition to any woman's wardrobe. Whether you are looking for a classic, timeless skirt that can go from day to night, or an edgier style that speaks to contemporary trends, there are plenty of styles available. By considering your budget, body type, and personal style preferences, you're sure to find the perfect skirt.