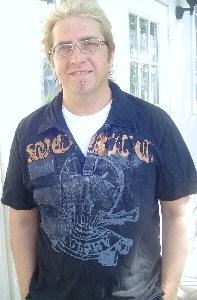 When seeking styling tips for wavy hair, we went to straight to the source and found a professional stylist who's advice and talent has shined in the beauty industry for over twenty years. Not only has Christopher Michalak worked on several A-list celebrities and owned his own elite salon; he's got wavy hair himself, which means he understands the challenges of textured locks.
With summer just around the corner, it's time to start talking natural waves and surfer hair. While interviewing Christopher Michalak, a Senior Stylist and Styling Educator at Breeze Salon and Day Spa in Georgetown, Texas, we scored some killer styling tips for wavy hair, all while obtaining a few suggestions for finding the right stylist who can tame and trim those free-spirited locks.
Styling Wavy Hair
Straight Talk on Wavy Hair
LTK: Wavy haired gals are often frustrated with their locks, whereas fine haired people often wish their hair had texture. Is this just a bad case of the grass being greener, or is there some pitfalls to styling wavy hair?
Christopher Michalak (CM): I think it's more the case of the grass being greener. Most professional models wearing straight, voluptuous styles often times have natural curl underneath. Styling wavy hair takes more work and extra styling products in order to soften the texture.
LTK: It seems many wavy haired gals blow dry their hair straight. Is this style going to stay mainstream or will natural waves ever come back in vogue?
CM: As a matter of fact, natural wave is coming back in a big way, without the volume that was so popular in the eighties. Wavy hair is shown softer with the use of moisturizing styling products to keep the tresses healthy and shiny.
Wavy Hair Natural Styling Tips
LTK: What are some natural styling tips for wavy hair?
CM::
Separate the hair into one or two inch sections. Gently twist the hair to form more ringlets.
Using a good leave in moisturizing treatment is always beneficial.
Towel dry hair with paper towels is another great tip to remove the excess moisture out of curly hair.
Air drying is always better than heat styling when it comes to natural curl.
Wavy Hair and Moisturizing
LTK: What hair products are a must have solution for taming out of control waves?
CM: Three words: moisturize, moisturize, moisturize. For an alternative approach to taming curl, try using a chemical free cleansing conditioner such as Chaz Dean's Wen. Fine and curly/wavy hair may need an additional protein or strengthening treatment to even out unruly curl formations.
LTK: So, how come beach hair always looks good, whereas bed head on wavy gals just looks plain…messy?
CM: At the beach, there is always a fine amount of moisture blowing throughout the air. To get that look away from the beach, occasionally mist hair with water mixed with a few drops of conditioner.
LTK: Any tips for the morning after wavy hair, as in; how does a gal get rid of her tangles without compromising the wave?
CM: Great question. Lightly mist the hair with water and a few drops of conditioner, apply a small amount of a moisturizing pomade scrunched into the ends of the hair. That will instantly refresh bed head curls.
Going Wavy
LTK: What tips can you offer a straight hair gal looking for styling tips for wavy hair?
CM: With the right amount of product, time, and a little work anyone can have wavy hair. Talk to a stylist who knows how to do pin curls as they can create a naturally wavy look on any hair type. Also, a curling iron will produce similar effects, the key is to not brush through the hair once the curls are formed.
Wavy Cuts
LTK: Any cutting techniques that are best for wavy hair?
CM: Naturally wavy hair requires special attention. Seek out a stylist that has experience working with natural curl. Key things to look for when choosing a stylist:
Find a stylist who clearly understands wave formation and who knows how to manage wavy hair.
It is pertinent your stylist gets what too many layers can do to wavy hair.
Your stylist should be able to visualize what curly hair will look like dry while working with it wet.
I prefer twisting the hair and cutting each piece separately because it keeps the curls more defined while keeping ends light and springy.
LTK: Thank you for taking the time to share your knowledge and expertise.
CM: Thank you, you asked some very good questions. Remember, less is more when dealing with wavy hair. The less you work with the hair, the better it will look. Also, seek out high quality products that meet your specialized needs.
Private Consultation
To book a hair consultation with Christopher Michalak, please contact:
Breeze Salon and Day Spa
1019 West University
Suite #615
Georgetown, Texas 78628
(512) 863-3242