Short hair styles are easy, convenient, and stylish no matter what your lifestyle or hair texture. With many different beautiful styles to choose from, there is sure to be a short style perfect for your hair.
Types of Short Hair Styles
Once you've decided that you are ready for a short hair look, there are many different types of styles to consider. Understanding the basics of each style can help you choose the one that will look best for you and work best for your life and personality.
Angled Bobs: An angled bob is an edgy, trendy look that is very short in the back with longer hair framing the face. This is a great style if you want the convenience of short hair but still crave some front length. This style can be worn straight or wavy, or you can pull back the longer section in front front with a clip or headband.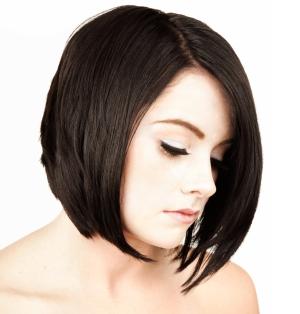 Bob Hair Styles: The classic bob has many variations, from choppy looks to shaggier styles to simple everyday bobs. This is one of the most popular types of short hair cuts. They're easy to glam up with a rhinestone headband, and work very well when the hair is straight. Curly-haired girls may prefer more layers than the typical blunt bob calls for.
Buzzed Hair: If you're ready to have a really short cut, a buzzed haircut may be right for you. This is also a great option if your hair has a lot of layers and you don't want to wait for them to grow out before changing your look - instead, buzz them off and start with very short hair. Styling's easy, just wash and go.
Short Choppy Layers: Short layered hairstyles have depth and texture that can be very attractive. You might opt for just a few layers to give your look definition, or you could choose many choppy layers for a lot of movement. Depending on the type of hair you have, this could be a high-maintenance style that requires a round brush and time spent with a hair dryer. You may also need a few products to smooth your hair and protect it from heat styling.
Perms: Short perms can be either tight or loose. Tight curls are easy to style and hold their shape well, while looser curls and waves have a feminine romance perfect for short hair. With the right products for a perm, you can just wash your hair, scrunch it a bit, and go. This style can be easier than it looks. The curls will also give updos great hold, so twist your hair up and secure into a French twist or bun with bobby pins when you need to get your hair off of your neck.
Shag Hair Styles: Shags are an easy style that require very little styling beyond regular trims. Because the purpose of a shag is to have a natural, tattered look, this is a great wash-and-wear style for anyone on the go. Choose a texturizing product to apply and then let your hair air dry or use a hair dryer to get a casual, tousled look.
Pixie Haircuts: A pixie is a close cropped hair style tapered to the head. This may not be the best look for severe face shapes, but it's perfect for oval shapes and anyone who wants a chic short hair look. Tapered bangs longer in the center are a classic accent for pixie styles. Have fun with headbands and small barrettes with this style. If you choose to have long bangs, you can pin those to the side or flip them back and pin them into place to get a bit of variety.
Pageboy Hairstyle: This retro look is a longer style of bob and features a blunt edge and thick, blunt bangs. This can be a great transition style if you've had longer hair but want to go short, and the vintage appeal of the pageboy has never been hotter. If you have curly hair, you might want to skip this style. The pageboy is typically worn very sleek and straight. You can flip the ends under or out using a round brush and a hair dryer. This is another cut that could be high-maintenance if your hair isn't very straight naturally.
With so many options to choose from, it can be hard to discover which short hair look may be best for you. If you're uncertain about your best style, consult with your stylist and share several short hair cut photos you like so they can see what looks you prefer.
Choosing a Short Style
While short hair may be stylish, every short look isn't necessarily right for everyone. Before planning a short haircut makeover, consider:
Face Shape: Just how short your hair is will depend on your face shape and the features you want to emphasize. Always consider your face shape when choosing a flattering hairstyle.
Care: While many short styles are wash-and-go looks, some do require more intensive styling to look their best. Choose a style that you feel comfortable styling every day.
Trims: Short hair cuts do require very regular trims to remove split ends and keep their defined shapes. If you aren't prepared for touch up trims every 4-6 weeks, short hair may not be the best choice for you.
Versatility: By their nature, short hair cuts are less versatile than medium length hair or longer styles. If you love wearing updo styles on special occasions, short hair will have fewer options.
Make the Cut
There are many ways to accessorize short hair for different moods, occasions, and special events. Small hair clips and barrettes work well in short hair and can add a bit of whimsy, glitz, or glamour as needed. Many women also experiment with hair color by adding hair highlights or hair lowlights shades to shorter hair for more depth and definition.
Whatever your hair preferences, when you're ready to make the cut there are many beautiful short hair styles you can choose from for a fantastic new look. If you take care to choose the right style when you're going short, you'll love your new look.