Encouraged by trends over the years, hair color for black women has progressed to become a form of self-expression as well as a beauty ritual. Women all over the world rely on hair color as a tool for expressing their individuality and covering up imperfections. Since African American hair is often naturally dry, it is important to understand some fundamental rules about the hair coloring process. This can help prevent hair damage and result in the color of your dreams.
Types of Hair Color
There are various types of color formulated to change the hair from one shade to another. Though all of these formulas are safe to use, some are more appropriate for African American hair than others. Keep your hair looking gorgeous without damage by choosing the least harsh method for your desired color.
Color Rinses: Gentle and easy to use, these ammonia- and peroxide-free hair rinses add shine and depth. The color rinse is a great option for individuals who don't have time to visit salons regularly; it can easily be maintained at home. It is also safe to use on relaxed hair, but since it washes out over time, it must be reapplied every few weeks. Note that color rinses do not lighten the hair.
Temporary Colors: By virtue of their name, temporary hair colors last only until your next shampoo. Similar to rinses, they don't lighten hair and are free of harsh chemicals. These colors are essentially "paint" for your hair; they only coat the strands, so they are also safe to use on relaxed hair.
Semi-permanent Colors: Similar to color rinses and temporary formulas, semi-permanent colors have the added advantage of longevity. The color is applied to the hair and then "sealed" with heat from a dryer for half an hour. Again, these colors are also chemical-free and safe to use on processed hair. Note, however, that they do not change color drastically and only last between six to twelve shampoos.
Demi-permanent Colors: Demi-permanent colors contain a small amount of peroxide, but do not contain ammonia. Therefore, they can't lighten the hair, but they can enhance the natural color and cover grays well. This type of color also lasts through at least 24 shampoos.
Permanent Colors: Best applied by a professional, permanent color provides you with a significant change and uses both ammonia and peroxide. The color does not wash out and only fades as the hair grows out. Touch-ups every four to six weeks are recommended to cover roots. For ethnic hair, it is especially important to see a colorist, particularly if the hair has had any type of chemical process.
Popular Choices of Hair Color for Black Women
Many famous African American women have been taking risks and setting new trends with their hair color, providing inspiration and style ideas. Beyonce has been sporting light colored locks for years, coloring her hair different shades of blonde and light brown and setting a trend for African American women to try blonde hues on their own hair. Tyra Banks is another style icon who has set trends with her hair color, experimenting with numerous shades of blonde, brown and red to her always-changing hair style.
The color you choose will depend on the look you want, how healthy your hair is, and whether you want a DIY option or are willing to go to a salon for a major change. Popular choices range from bold, trendy colors to subtle highlights and include the following looks.
Copper
Copper is an earthy shade that is more natural than a fiery red and creates a warm, flattering look. Opt for shades described as "burnt" or "burnished." Whether done as an all-over color or as highlights, this rich shade brings warmth and brightness to your hair for a flattering look. Copper is one of the many gorgeous hair colors Rihanna has pulled off.
Caramel and Gold
Subtle hints of caramel or gold can add new depth to dark hair. During the warmer months of the year, it adds a fresh, light element to the hair. Caramel, honey, and yellow gold are all shade that complement darker skin tones and look great as highlights. According to celebrity colorist Rita Hazan, warm shades such as this are not only flattering in their appeal, but are also ideal for helping women look younger. Many stars have worn these warm shades, from Ciara's ombre bob to Kerry Washington's honey highlights.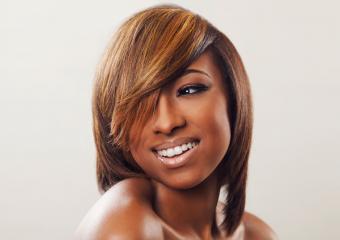 Red
During the fall and winter, shades of red hair are popular. Choose shades that are rich and deep, such as burgundy and warm wine. A hint or purple can add an edgy twist to the look. Whether it's in braids like Keke Palmer has been seen sporting, a natural look, or a straight style, red is a great choice that complements many skin tones.
Dark Blonde
Freshen up your hair color in spring with a blonde color. Dirty blonde is flattering on medium to light skin tones with the mix of dark and light throughout the hair. Beyonce and other celebrities have made this color a trendy option.
Chocolate Brown
Chocolate brown is a subtle, natural-looking hair color with warm undertones that are flattering to most African American skin tones. Gabrielle Union has worn this hair color, among other shades. This shade looks gorgeous as an all-over color, as well as paired with other shades. Caramel highlights are a popular look with chocolate brown hair that creates a beautiful contrast.
Platinum
Platinum blonde is a trendy color option for those with short or pixie hairstyles. All skin tones can wear this white blonde, but it is important to know that getting this color may cause severe damage to your hair. While this is a very trendy celebrity color, seen on stars such as NeNe Leakes, it is not a viable option for those with long or relaxed hair due to the amount of damage to the hair.
Bright Color
Whether you have light or dark skin, if you want to walk on the wild side and have a cool tone to your skin, try adding some blue, green, purple, or lilac color to your hair. You can add a few chunks of color through your hair or an ombre color. If you are daring enough, opt for an all over color. YouTube stars as well as celebrities have helped the bright hair trend rise in popularity.
Brands of Hair Color for African American Hair
Women looking to color their hair on their own may face some difficulties in choosing the right brand of hair color. While there are many brands of hair color, those designed specifically for African American hair usually produce the best results. The following brands are some of the most reputable for African American hair color.
Potential Damage
Though any chemical process can potentially damage the hair, black hair is more susceptible because of its naturally dehydrated state. This hair type requires intense and consistent moisture, so a hair dye can cause some degree of damage. This is important because most African American hair is dark, so any drastic color change (for example, from dark to blonde) requires bleaching. The process is extremely damaging and should always be performed by a professional. Even then, it is recommended that ethnic hair not be lightened more than five levels from its natural state, and it is healthiest to only lift three levels at a time. For those who choose to make a drastic color change greater than five levels, note that the hair may experience a change in texture and begin to feel straw-like.
In addition to regular hair care, consider these tips to minimize and prevent damage:
In order to minimize damage to the hair, professionals recommend going slow with the dyeing process if you are going with a considerable lighter shade. Extensive lightening in one session can cause damage, and for women with natural hair, it could affect their curl pattern.
Women with relaxed hair should consider semi-permanent rather than permanent color to prevent damage.
Don't shampoo before coloring - the natural oils help protect your hair and scalp.
Commit to regular deep-conditioning. Weekly deep conditioning with quality hair oil, a hair mask, or an intensive moisture or conditioning treatment.
Be gentle with styling and reduce or avoid styling with heat to help protect the integrity of your hair.
Use sulfate-free shampoos and conditioners formulated for color-treated hair.
An anti-breakage leave-in treatment or conditioner will also help protect color-treated hair from everyday damage.
Recommended Care
Color-treated hair demands extra care. Use shampoos and conditioners rich in moisturizing ingredients, condition regularly, and use treatment oils to prevent long-term damage due to heat styling, processing and coloring. With the right care, African American women can enjoy a range of different hair colors to enhance their natural beauty. By choosing the best hair color for black women and taking good care of your locks, you can enjoy stunning shades for years to come.