Top Women's Clothing Websites
With the growth of online shopping, finding women's clothing to suit every size, taste, and budget has become exponentially easier. The choices are seemingly endless, making it seem like a daunting prospect to narrow the many choices to find the best places to shop online. Below are some of the top online women's clothing stores, with selections that are sure to be what you're looking for.
Popular Chain Stores
Shopping at chain stores online means you'll be able to get the same brands you've trusted for years at retail locations, but with a larger selection of products in a bigger range of sizes. Because these stores are rooted in face-to-face customer service, you can expect the same high level of attention when dealing with their sites.
J.Crew
J.Crew offers a wide selection of top quality basics in conjunction with more fashion forward pieces. You get classic silhouettes with a modern twist in the best fabrics.
You can find daily wear and some special occasion pieces, as well as a bridal collection at J Crew.
Most items come in multiple colors.
In addition to sizes 00 to 14, some styles are available in petite and tall sizing.
Prices start around $25 and go up to over $500.
Banana Republic
Banana Republic specializes in chic basics and stylish work clothing. The store has grown in popularity with joint ventures like their Mad Men Collection and a collaboration with Milly. Clothing is available in standard, petite, and tall sizes. Prices are generally $40 to $250.
Anthropologie
Anthropologie sells feminine, retro-chic clothing for women. They are the big, sophisticated sister store to Urban Outfitters; they have the same level of variety in products with a more grown-up feel.
They sell many popular brands and limited edition collaboration lines from a changing roster of of-the-moment designers like Karen Walker and Virginia Johnson.
Only standard sizing XS to XL is available.
Most prices range from $40 to $300.
New York & Company
New York & Company specializes in women's fashions designed for the work day that can be easily modified for other functions. Their offerings tend toward reasonable prices designed for the active, working woman.
They sell many types of clothing, from dresses to suits to jeans and t-shirts. They also have a "NY&C Style System" that helps you pick out pieces for your wardrobe that are multifunctional and can make more than one outfit.
In addition to their own brands, they also carry the Gabrielle Union and Eva Mendes collections and Uncommon Sense lingerie and swimwear.
They cover standard sizing, as well as petite and tall options as well as plus sizes 12 to 24.
Prices range from $10 to $150.
Lane Bryant
A popular clothing chain, Lane Bryant focuses their selection on fashionable picks for plus size women. The stores have a wide variety of clothing to suit every function including work, casual wear and swimwear, as well as lingerie designed for fuller figured females.
Sizing options begin around size 10 to 12 and go up to 30/32, with bra cup sizes from C to H.
They also have petite and tall sizes for some options such as jeans.
Prices range from $10 to $100.
High-End Stores
Shopping for high-end designer fashions is made easier by online stores that focus strictly on selling only top-of-the-line labels. They often offer a larger selection of designers than you would be able to find in a single department store or boutique.
NET-A-PORTER
NET-A-PORTER is a one-stop shop for luxury goods online.
They sell long-established big names like Gucci and Bottega Veneta along with more contemporary labels like Matthew Williamson and Boy. by Band of Outsiders.
Only standard designer sizing is available.
Prices can go up to nearly $4000.
Shopbop
At Shopbop, you'll find well over 100 different designers ranging from Zac Posen to Jill Stuart to Raquel Allegra.
In addition to ultra high-end names, Shopbop also carries some more affordable lines like Free People and BB Dakota.
You can find tons of styles from the most casual up to black tie.
The shop offers standard sizes only.
Prices range anywhere from $75 to $2000.
La Garconne
If you're searching for hard-to-find Japanese and European designers, La Garconne is the place to shop.
They sell the likes of Tsumori Chisato, Chalayan, and Vanessa Bruno, among many others.
Sizing is generally limited from 0 to 8.
Prices start around $100 for lower priced items and can go up to over $1000.
Designer Discount Stores
If you covet a designer wardrobe but can't bear spending the cash, you can find a great selection of contemporary designers at discount prices from online outlet stores. Choices will be more limited, and items may be from past seasons, but the deals are hard to pass up. Look for timeless pieces instead of trendier ones if you want more of an investment piece.
Bluefly
At Bluefly, get deals on designer clothes from the likes of Marc by Marc Jacobs, Rag & Bone, and Proenza Schouler. Discounts generally range from 30%-50%. Sizes will be limited due to availability.
THE OUTNET
THE OUTNET is the outlet site for NET-A-PORTER, so you can expect to find the same great selection of established and contemporary designers at prices reduced up to 75%. Look for deals on pieces from everyone from Oscar de la Renta to Mara Hoffman.
YOOX
YOOX is a discount site that sells a huge selection of reduced price designer and brand name clothing for women. Find thousands of items from hundreds of well-known names like Brooks Brothers, American Apparel, and French Connection or top designers like Alberta Ferretti, Chloe, and Prada. Discounts are anywhere from 20% to 70% off retail prices.
Budget-Friendly Stores
Finding stylish clothes at affordable prices is easier than ever, thanks to runway-inspired looks at affordable stores and the new trend of designer/budget retailer collaborations. Whether you're looking for everyday clothes or a special occasion outfit, you can do so on without spending a fortune when you shop at a budget-friendly store. In addition to carrying a bigger selection than retail locations, online stores often offer additional discount codes if you subscribe to their email lists.
The Gap
The Gap sells everything from flirty dresses to jeans to classic blazers. Their pieces are inspired by the latest trends and offer affordable, stylish options for women who are watching their wallets. The website offers extended sizing from 0 to 16, with petite and tall options. Prices for most items stays between $20 to $80.
Target
Target is the go-to stop for chic discount shopping. This is thanks largely in part to their regular collaborations with high-end designers like Marc Jacobs and Jason Wu. Plus size, petite, and maternity sizing is available. Most prices stay between $10 to $50.
ModCloth
ModCloth specializes in affordable, vintage-inspired women's fashions. The look is feminine, flirty, and retro glam.
They carry lines like Motel, Kensie Girl, and Only Hearts.
Some items are available in plus sizes, and most come in standard 0-16.
Prices range from about $40 to $200.
Stein Mart
Stein Mart is known for stocking designer brands at discount prices. The store's clothing selection covers work and party dresses, active and casual wear, as well as lingerie, shoes, and accessories.
Designer lines include Anna Cai, NY Collection, Why Dress, Nine West, Le Suit, and Tommy Hilfiger.
The store carries standard sizes as well as petite and plus sizes.
Prices range from items under $10 to as high as $4,500.
Professional Clothing Stores
Work-appropriate clothing that's also stylish can be difficult to come by. Luckily, many popular retailers make separates and suits that are fashionable and professional.
Ann Taylor
At Ann Taylor, you can find tons of button-down shirts, skirts, blazers, dresses, and more. Their clothing is classically chic with a conservative enough look for any office environment.
If your workplace is more formal, Ann Taylor offers a nice selection of traditional women's suits.
Standard, petite, and tall sizes are available.
Prices range from roughly $60 to $200.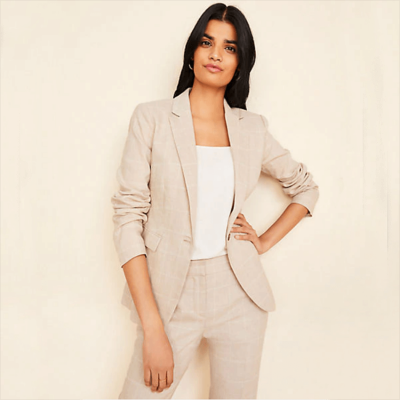 Talbots
Talbots sells elegant women's clothing in classic silhouettes.
Their style is modest enough for a work environment and is sold in standard, petite, and plus sizes.
You can find suits, separates, and work-friendly shift and wrap dresses in a range of neutrals and trendier colors and patterns, as well as many other great examples of professional business attire.
Prices are around $30 to $200.
White House Black Market
White House Black Market is famous for perfecting and standardizing the little black dress, but they offer so much more.
In addition to a wide selection of feminine, timeless dresses, they have a line called WorkKit designed specifically to provide women with chic yet appropriate professional clothing.
Standard sizing 00 to 14 is available along with a line of petites.
The price range is roughly $80 to $200.
Department Stores
Department stores are a great shopping resource for women. They are essentially mega-stores that carry an unusually large selection of styles from a variety of trusted designers. When using their websites, customers have access to an even broader selection of sizes and styles. They also generally have great customer service since their roots are in retail locations.
Saks Fifth Avenue
Saks Fifth Avenue has everything from sportswear to evening gowns from both premier and contemporary designers including Badgley Mishka, Tahari, Diane von Furstenberg.
They mostly sell clothing in standard sizes 0 to 12.
They do have maternity and plus size departments that sell many of the same designers as the main store.
Prices start around $200 and go up to well over $4000.
Neiman Marcus
Neiman Marcus is highly renowned as a luxury department store. They sell a wide range of styles for women of all ages from designers like Chado Ralph Rucci, Armani, YSL, and The Row. They have a contemporary department called CUSP and an outlet department called LAST CALL. They have special sizes including petite and plus. Prices range from just over $100 to upwards of $5000.
Nordstrom
Nordstrom offers hundreds of designers from the highest end to the more budget friendly.
Labels include everything from Ferragamo to Mink Pink.
They sell petite, plus, and maternity sizing in additional to standard.
Prices start under $100 and go up to around $5000.
Kohl's
Kohl's is the largest department store chain in the United States and offers a wide selection of clothing for women, men and children, as well as home furnishings. The store is largely directed toward shoppers in the "middle" range of income with clothing for work, fitness and everyday casual wear.
Popular brands the store carries include Simply Vera Wang, LC Lauren Conrad, Chaps, Gaiam, Gloria Vanderbilt and Levi's.
Kohl's carries clothing in standard, petite and plus sizes, as well as juniors and maternity wear.
Pricing ranges between items under $10 up to $500.
Expand Your Shopping Options
Shopping online expands your options by the thousands. Don't get overwhelmed - instead, let yourself have fun! Try new stores and new styles or find more of what you already love. The possibilities are virtually endless!