The Olsen twins are well-known in the world of fashion. Not only are they praised for their own clothing lines, The Row and Elizabeth and James, but they're also praised for their individual fashion styles. After initially starting out on TV and movie screens when they were only kids, as they grew in age and popularity, fashionistas globally started to take note of what they both wore for public and private events.
Overview of The Row
When Ashley Olsen and Mary-Kate Olsen were only 20 years old, they decided to add "fashion designers" to their list of talents. They naturally progressed into fashion while continuing to work as actresses, after prestigious publications such as The New York Times started to give them recognition for their enviable style.
Humble Origins
The Row was launched by the Olsen twins in 2006. Later, in both 2012 and 2015, Ashley and Mary-Kate were named Womenswear Designers of the Year by The Council of Fashion Designers of America - as well as Accessory Designers of the Year in 2014.
Since its inception, The Row has expanded to feature a variety of ready-to-wear clothes, handbags, footwear, and eyewear. The brand also now has a key mission to support high-end fashion manufacturing in the US.
The Row Brand and Style
The Row is meant to reflect a sense of relaxed and timeless elegance. The brand focuses on fine fabrics and the perfect fit, above all else.
It was Ashley Olsen who actually founded The Row, when she decided that she wanted to make a luxury, basic white t-shirt that would suit multiple women. She tested samples on all shapes and ages, from 20-year-olds to 60-year-olds, until she found a t-shirt that worked for the majority of women in terms of fit and attitude. It's this desire to produce versatile clothing that fulfills the needs of the customer which makes the brand still so successful today.
The Row is named after Savile Row, a street in London that is renowned for its luxury tailoring, and aimed at the everyday American woman who is looking for clothing with impeccable quality and style. The brand's price points range from approximately $350 to a hefty $10,000.
Shopping for The Row
The Row has many retail locations, both in the US and worldwide. It has two standalone stores in the US; the first is on East 71st Street in New York, and the second is on Melrose Place in LA. The brand is also sold in select department stores within the US, such as Barneys New York, Nieman Marcus, Saks Fifth Avenue, Bergdorf Goodman, as well as in some independent stores. To find a store near you, just check The Row store locator.
In terms of the rest of the world, you can shop for The Row online via these websites: Barneys.com, BergdorfGoodman.com, JustOneEye.com, LaneCrawford.com, MatchesFashion.com, MyTheresa.com, Net-A-Porter.com, and TheOutnet.com.
Recent Collections
The Row's collections always follow a certain formula season upon season: fabric reigns supreme, color is used sparingly, and embellishments are kept to a minimum. However, in recent collections, the rules have been bent slightly.
Embellishments might be gone, and the color palette restricted to white, black, cream, and red, but The Row's look remains as elegant as ever. However, footwear has been given an edgy twist, thanks to the appearance of lace-up shoes and boots.
For instance, check out these The Row Fara boots from MyTheresa.com for about $1,390. Available in sizes 6-12, they're just as fashionable as they are fierce. According to Vogue, they're the next-level Dr. Martens.
Outerwear styles also feature in recent designs, with oversized trench coats being a key hero piece.
Considered a standout on the catwalk amongst an otherwise neutral color palette, this Neyton tomato red trench from Net-A-Porter.com comes in a luxurious silk-satin and kimono-style shape. Available in sizes 0-12 for about $4,890, it's sure to make a serious style statement this season.
As well as these standout looks, key pieces from the brand are also consistently available.
This Joshua Poplin shirt from Barneys.com emulates The Row's signature precise tailoring. Available for around $790 in sizes 0-12, it's crafted from white poplin and creates a smart, classic look.
Simply pair this shirt with The Row Firth satin wide-leg pants from NeimanMarcus.com to give it a modern, fashion-forward update. Costing around $990 in sizes 0-14, there is also a matching blazer available that, when worn as a pantsuit, stands out for all the right reasons.
Overview of Elizabeth and James
Following on from The Row, Ashley and Mary-Kate Olsen launched a second clothing line in Fall 2007. Elizabeth and James is a women's lifestyle brand which offers clothing, jewelry, eyewear, handbags, and fragrance.
How Elizabeth and James Is Different
Elizabeth and James differs from The Row substantially. Elizabeth and James allows women to define their own style through a unique, effortless approach to dressing.
The Olsen twins have a set vision for the brand, based on the modern woman's wardrobe. The focus is on playful and feminine silhouettes, with a distinct emphasis on balance and fit.
The line is also classed as accessible luxury, as the brand is made up of pieces that are significantly less expensive than those featured in The Row.
Shopping for Elizabeth and James
Much like The Row, Elizabeth and James have several retail locations across USA and on a global scale. As well as their standalone store in The Grove shopping mall in Los Angeles, Elizabeth and James is sold throughout key US department stores such as: Bloomingdales, Nordstrom, Neiman Marcus and Saks Fifth Avenue both online and in physical locations.
The brand is also featured in many independent stores and on retailer websites worldwide. Check the store locator to find a store near you.
Popular Looks
In contrast to The Row's extravagant, yet elegant, ready-to-wear collection, this season's Elizabeth and James offering is all about the understated. In fact, Vogue suggests wearing The Row's standout outerwear over a piece from the Elizabeth and James collection.
Typically minimalist in terms of color and textures, this season the Olsen twins have decided to mix it up the brand's usual aesthetic and introduce pieces in fresh hues, such as pinks and reds, and cocoon-like silhouettes.
For instance, a key hero piece of the collection is this tangerine Palmoa coat from Shopbop.com. At about $745, it also comes in blush pink and has a dreamy look. Simply pair with your favorite pair of jeans and a sweater for the ultimate cozy, yet colorful, fall look.
Suiting and tailoring also reign supreme in recent collections. In addition to traditional, business-like pieces that Elizabeth and James is well known for, statement dresses also stand out.
This sculpted LBD from NeimanMarcus.com is the perfect blank canvas to dress up or down this season. At about $375, you can either smarten it up for the office by teaming it with sparkly jewelry and accessories, or make it suitable for everyday by wearing it over a long sleeved top with tights and boots.
As well as the sculpted LBD, industry professionals love the Raquel metallic coupe maxi dress from Net-A-Porter.com. At about $695, this silk-blend beauty has definite 1970s bohemian vibes about it and puts a contemporary twist on the traditional party dress.
The Olsen Twins' Style
A lot of the inspiration from both of their clothing collections comes from the Olsen twins' own personal styles. Ashley and Mary-Kate each have their individual, distinctive look that is copied and lusted after by fashionistas and industry professionals worldwide. However, their personal styles are quite different.
Smart and Sassy Like Ashley
Ashley Olsen, who originally came up with the idea for The Row, has a very glamorous, well put-together fashion style.
She likes variety, rocking business-like tailoring one minute and then oversized, sci-fi structures the next. Some of her looks are quite daring but, most of the time, she likes to keep it simple with neutral color palettes and traditional fabrics.
When Ashley dresses up, she really dresses up - often favoring sparkly, feminine numbers over anything else. Ashley always looks smart, she always looks polished, and everything that she wears oozes class and sophistication.
Rough and Ready Like Mary-Kate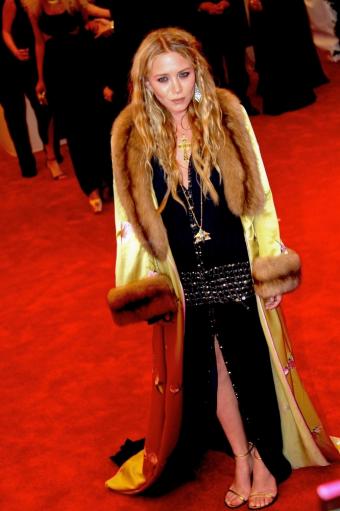 Mary-Kate Olsen's fashion style is, in some ways, the total opposite to Ashley's.
Her look is very much edgy and experimental, promoting several different aspects of eras gone by. For instance, sometimes Mary-Kate rocks the grungy fashion of the 90s, sometimes she emulates 70s bohemia, and other times she showcases punk rock from the 60s.
Mary-Kate's style can look very gothic at times, but it's mostly casual, creative and colorful, with a lot of the pieces giving the impression that they've just been thrown-on last minute. This "thrown-on" look is typical of LA fashion, where she lives.
Out of the two, Mary-Kate is more well-known for her fashion style, even though it was Ashley who created The Row. As her look is more controversial and gives off a lot of attitude, it tends to attract more attention and copycats.
The Olsen Twins: Fashion Innovators
Both Ashley and Mary-Kate Olsen have made an undeniable contribution to the world of fashion in the last decade or so - not just through their fashion designs via The Row and Elizabeth and James, but also through each of their personal styles. Through their collections and individual outfits, they inspire women everywhere to exude confidence and be comfortable with who they are - and that's what makes them so lovable.