In America, the "high" part of "high tea" has come to mean an elegant afternoon tea. Don't be fooled by this misconception and tricked into wearing an outfit that is ornate and fancy. Instead, dress appropriately for the occasion in the following ways.
Finding a Fashionable Dress
Dresses are a wonderful choice for high tea as these styles are comfortable and fashionable. When choosing the right dress, look for a pattern that is flattering and eye-catching but stay away from anything that looks too busy. Color will also be key here, so choose shades that flatter your skin tone.
High Neckline and Flared Hem
With respect to the style, make sure that the bodice of the dress is high enough to be appropriate, but low and relaxed enough to look casual. A flared hem is also cute and comfortable instead of figure-hugging designs.
Tea Dress
As the name suggests, a tea dress (also known as a tea gown) is super suitable for high tea thanks to its hemline that falls above the ankle and below the knee. Whether it's short or long-sleeved, team it with an endearing quilted cross-body bag for fashionable elegance.
Long Maxi Dress
Long, floaty maxi dresses cover you up for the occasion while making sure that you look effortlessly chic. If you have a strapless summer maxi dress that looks lovely, is a great shade and fits just right, but you're concerned about going without sleeves or straps, you could always pair the dress with a matching cardigan.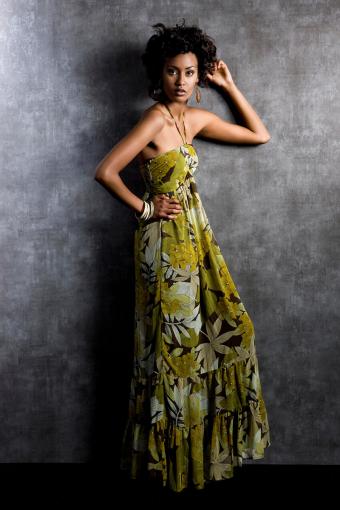 Rocking a Sweater Set
A sweater set is always a good idea for high tea because it can be paired with a skirt or pants but still looks pretty and feminine. Additionally, the sweater will help to keep you warm if the tea is being served in an air-conditioned room.
Consider Color
Make sure that your sweater set matches; don't just pair a tank top with a pretty cardigan. Stick to a color that is flattering on you and suitable for the occasion. Some good choices are:
Teal
Green
Berry
Soft rose
Violet
Shades of black and white are fine, but these colors may look a bit stark.
Embracing Feminine Skirts
Skirts pair nicely with sweater sets, embellished tank tops, and printed blouses. The general rule is to make sure that your skirt sits at the knee or below the knee for it to be appropriate.
Pencil Skirt
Tailored pencil skirts match the occasion quite well as they're typically considered formal. However, if your skirt is very form fitting, be sure to sit in it prior to taking tea. You don't want to have to ask your friends or family members to help you up!
Flared Hem
A safe and practical option is a standout printed skirt with a flared hem, which you can then dress up with a black shirt, blouse, or cami to make a serious style statement.
Flowing Maxi Skirt
If you prefer the girlier aesthetic, opt for a long, free-flowing maxi skirt with romantic ruffles or a sassy slit. Choose between a muted, plain version that you can dress up with a bright blouse or a patterned number that you can pair with neutrals for a classic, refined look.
Picking Out the Right Pants
There is nothing wrong with wearing pants to high tea, but avoid shorts or cropped versions above the knee.
Consider Season
All pants for high tea should be tailored to give off the correct impression. Additionally, the color and fabric of the pant should match the season. In other words, wear linen during the warmer months and heavier fabrics like wool for the colder months.
Are Jeans Suitable?
Is it acceptable to wear jeans for high tea? Yes and no. There's no hard and fast rule that says you can't wear jeans, particularly if they are of the dark and tailored variety. However, keep in mind that some hotels, like the Waldorf Astoria in New York, still require men to wear jackets to high tea, so carefully consider the ambiance of the location. You want to stand out for your keen fashion prowess, not because you look inappropriate.
Where to Shop
Your objective is to look pretty, polished and relaxed when you take tea. These shopping sites will help you convey the perfect image.
New York & Company: Here, reach for the pretty ruffled skirt, the flowing, feminine look of a maxi dress, or the free-spirited yet elegant tiered skirts.
Express: Tread carefully at Express, because you don't want to wear anything that is too short (no miniskirts) or too revealing (plunging necklines). However, you can find wonderful pencil skirts and summer blouses at this shopping site, especially for the younger consumer.
Macy's: Macy's junior's department offers the latest trends for teenagers, but women of all ages can shop in this section. Often, doing just that is a good idea, as you can wear a skirt that's already in your closet that you know looks fabulous, but dress it up with a new embellished tank.
Accessories
Accessories can make or break an outfit, so choose yours with care.
Jewelry
Jewelry is always welcomed, but be sure not to wear too many items at once. An interesting necklace that offsets your attire is a good fit, as are bracelets and small earrings. If you find you are already wearing a necklace, earrings, and a bracelet right before attending the tea room, be sure to take off at least one item.
Shoes
Shoes are an important part of your outfit because they make a statement about who you are and your personality. For high tea, skip the sneakers and instead opt for classic ballet flats. If you love heels, forgo stilettos and go with a stacked style instead. Pretty sandals also work quite well and flatter a wide variety of outfits.
Relax and Have Fun
Having high tea is a special occasion and one that you won't soon forget, so opt for clothing that fits your body well and flatters your shape. Above all, choose an outfit that is ladylike yet reflects your personality.