Few things provide more stress than finding the right attire for high tea. After all, with visions of queens and princesses dressed to the nines dancing in your head, it's no wonder that attending high tea strikes fear in the hearts of many. Fortunately, dressing for the occasion is easy if you know what to wear and what to avoid.
How to Dress For High Tea
Take your cues on how to dress for high tea by understanding what the event is and isn't. Historically in England, a high tea was an early evening light meal for the working class. Currently, you will see it used as a social tea that's typically accompanied by meats and sandwiches, followed by dessert.
However, in America, the "high" part of the occasion's name has come to mean a sophisticated and/or elegant afternoon tea. Don't be fooled by this misconception and tricked into wearing an outfit that is ornate and fancy. Remember, you are not attending a wedding or making your debut appearance at the Kentucky Derby. Instead, select from this list of available attire:
Dresses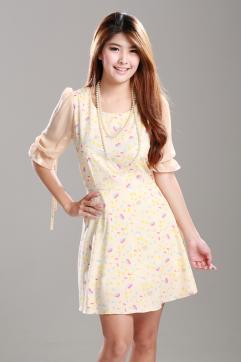 Dresses are a wonderful choice for high tea, as these styles are comfortable and fashionable. When choosing the right dress, look for a pattern that is flattering and eye-catching but stay away from anything that looks too busy.
Color will be key here, so choose shades that flatter your skin tone. With respect to the style, make sure that the bodice of the dress is high enough to be appropriate, but low and relaxed enough to look casual. Styles that might be a good fit include:
Tiered dresses
Flared hems
Long maxi dresses
If you have a strapless summer dress that looks lovely, is a great shade, and fits just right, but you're concerned about going without sleeves or straps, think about pairing the dress with a matching cardigan.
Sweater Sets
A sweater set is always a good idea because it can be paired with a skirt or pants, but still looks pretty and feminine. Additionally, the sweater will help to keep you warm if the tea is being served in an air-conditioned room. Make sure that your sweater set matches; don't just pair a tank top with a pretty cardigan and stick to a color that is flattering on you and suitable for the occasion. Some good choices are:
Teal
Green
Berry
Soft rose
Violet
Shades of black and white are fine, but these colors may look a bit stark.
Skirts
Skirts pair nicely with sweater sets, embellished tank tops and summer blouses. Here, you'll have three options:
Pencil skirts
Flared skirts
Tiered Skirts
If your skirt has a slit, or is very form fitting, be sure to sit in it prior to taking tea. The last thing you want to have happen at the Drake Hotel is to sit down, only to find your friends or family members to have to help you up.
Pants
There is nothing wrong with wearing pants to high tea, but make sure that the color and fabric of the pant matches the season. In other words, linen works well during the warmer months while heavier fabrics like wool are well suited for the colder months.
Are Jeans Suitable?
Is it acceptable to wear jeans to high tea? Yes and no. There's no hard and fast rule that says you can't wear jeans, particularly if they are of the dark and tailored variety. However, keep in mind that some hotels, like the Waldorf Astoria in New York, still require men to wear jackets to high tea, so carefully consider the ambiance of the location. You want to stand out for your keen fashion prowess, not because you look inappropriate.
Where to Shop
Your objective is to look pretty, polished and relaxed when you take tea, and these shopping sites will help you convey the perfect image:
New York & Company: Here, reach for the pretty ruffled skirt, the flowing, feminine look of a maxi dress, or the free spirited yet elegant tiered skirts.
Victoria's Secret: Tread carefully at Victoria's Secret, because you don't want to wear anything that is too short (no miniskirts) or too revealing (plunging necklines). You can find wonderful pencil skirts and summer blouses at this shopping site
Macy's: Macy's junior's department offers the latest trends for teenagers, but women of all ages can shop this section. Often, doing just that is a good idea, as you can wear a skirt that's already in your closet that you know looks fabulous, but dress it up with a new embellished tank.
Accessories
Accessories can make or break an outfit, so choose yours with care.
Jewelry
Jewelry is always welcomed, but be sure not to wear too many items at once. An interesting necklace that offsets your attire is a good fit, as are bracelets and small earrings. If you find you are already wearing a necklace, earrings, and a bracelet right before attending the tea room, be sure to take off at least one item.
Shoes
Shoes are an important part of your outfit because they make a statement about who you are and your personality. For high tea, skip the sneakers and instead opt for classic ballet flats. If you love heels, forgo stilettos and go with a stacked style, instead. Pretty sandals work quite well and flatter a wide variety of outfits.
Relax and Have Fun
Indeed, having high tea is a special occasion, and one that you won't soon forget, so choose an outfit that doesn't have a lot of bells and whistles; this is not the time to be tugging at your skirt or pulling up a loose tank top. Wear clothes that fit your body well, and that flatter your shape. Above all, choose an outfit that is ladylike, but one that suits your personality.