It is becoming increasingly popular for designers to think of the future, imagine what it holds for clothing, and emulate those trends in their current collections. Many of these designs are highly fashion-forward, taking the runway by storm, but you will see examples of each trend that can easily be integrated into your present-day wardrobe.
Sci-Fi Sexy
Designers seemingly have taken some inspiration from your favorite science fiction movies, amplified their sex appeal, and are calling it futuristic. It's currently all about sculptured dresses, with designers such as Victoria Beckham playing with texture to create one-pieces in a fusion of fabrics. Typically, this trend is quite revealing, but these dresses can be worn over leggings to make them more everyday appropriate.
Alice + Olivia - Available for about $995, this leather and lace mix minidress is a perfect example of a wearable, yet futuristic, dress. The designer pieces combines soft leather with edgy hardware details on the sleek A-line silhouette, truly defining this ultra modern trend. It comes in sizes 0-10.
Ali & Jay - This designer takes the sci-fi sexy inspiration of the future and makes is much more appropriate for any woman to wear to a special event and feel right on trend. The Hola Mamacita Body-Con Dress beautifully combines grosgrain ribbons with mixed-lace panels to create a standout, futuristic look. This dress comes in sizes XS-L and is priced around $82.
Metallic Fabrics
For some reason - maybe it's the astronaut suits - whenever designers think of the future of fashion, they instantly think of metallics. Futuristic fashions go beyond just a hint of metallic here and there - instead, these outfits include all over metallic shine. So far, the runways have featured mostly skirts, jackets, and sneakers covered in gold or silver glitter. Get ready to sparkle!
A.L.C - This designer hit the futuristic nail on the head with this gorgeous rose gold metallic pleat skirt. It appears to be delicate and fancy, but also bold and futuristic at the same time! It comes in sizes 0-10 and is priced around $645.
Dries Van Noten - This Two-Tone Lame Blazer jacket screams futuristic as it's sewn from shiny lame, which flows from blue to bronze, with a boxy silhouette. It comes in sizes XS-M, costs about $1995 and is also available in green to purple lame.
Mirrored Sunglasses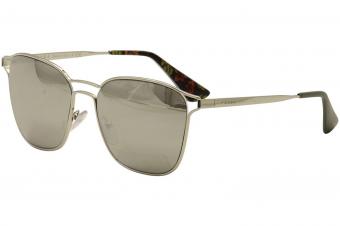 This accessory trend piggy-backs on the metallic fabric trend, as mirrors emulate the future in many people's eyes. Designers everywhere are utilizing this accessory to make their mark. Karen Walker was a trailblazing designer in this movement and has created some very high-end mirrored sunglasses.
Prada Square Frame Mirrored Sunglasses - Known for creating some of the most fabulous sunglasses in the world, Prada has outdone themselves with these very futuristic gold-tone sunglasses. They are a done in a sleek mirrored style with a gold-tone frame and sleek tortoise shell tips. These can be purchased for about $360 and are especially flattering for round face shapes.
Le Specs - Le Specs teamed up with Adam Selman to create these cat-eye rose gold mirrored shades. They might be a bit more on the subtle side, but are classy and futuristic nonetheless. They can be purchased for around $120.
Extreme Silhouettes

While designers such as Chanel and Iris van Herpen sent looks down their runways that also fit into the previous mentioned categories, they also took part in the futurism of extreme silhouettes. For this trend, designers are taking basic components that make up various silhouettes - the neck, arms, and shoulders specifically - and adding size and volume, taking them to extreme places. The curious thing about this trend is that in most cases, women are trying to cut down on any volume that adds to their silhouettes, while designers are enlarging them.
Alexander Wang - This beautiful flared skirt, with ball chain trim, is a great example of a simple way to translate the extreme silhouette trend from runway to real life. While the designer added volume through the ruffled peplum hem, it defines the waist, showing off the shape of the person wearing the skirt. This can be found in sizes 2 and 4 for $645.
The Row - This iconic fashion house, run by the Olsen twins, knows to take trends from the runway and make them actually wearable. With this funnel-neck sweater, inspiration has been taken from the hugely oversized turtlenecks showcased on runways and made one that can actually lay down over the shoulders and chest for a less voluminous shape. Even though it is still an oversized sweater, it can easily be paired with leggings, skinny jeans, or a pencil skirt for a more sleek appeal. This dreamy skirt can be purchased in sizes XS-L and is priced at about $1790.
Galaxy Prints
Some designers have showcased styles heading to infinity and beyond with the abundance of space-inspired prints that they featured on their catwalks. These prints were spaceship-orientated at Christopher Kane, included moon-shaped embroidery at Dior, and all about the astronauts at Chanel, complete with their very own rocket-launch simulation. Anything galaxy-inspired goes, for a look that's simply out-of-this-world this season.
Dolce & Gabbana - This stunning Printed Silk Blouse, available in sizes 36-48 for about $975, has been manufactured in chiffon and has a scarf neck that can be tied in a bow. The print is larger than life, featuring colorful rocket ships and moon shapes aplenty on a black starry night sky backdrop. Wear with the matching skirt to fully embrace your futuristic side this Fall.
Modcloth - For a slightly different take on this trend, check out the intergalactic print on this Heart and Solar System A-Line Dress (about $80). With a notched sweetheart neckline and pockets, it has been crafted from cotton in the classic A-line shape and comes in sizes XS-4XS. The print is colorful and entrancing, so simply pair with high heeled shoes and allow your dress to do all the talking.
Why Designers Look to the Future
Designers are very tactful when putting together their collections each season, knowing that they must continually set their collection apart. They also pay attention to what is popular and cutting edge, creating looks that will appeal to consumers preferences and tastes. Adding futuristic touches to their collections accomplishes these things - and can get them a great deal of publicity along the way.