12 Essential Accessories for a Rocker Chic Clothing Style
Lace-Up Boots
There are two types of lace-up boots that are well-known staples in the rock music world.
The first are Doc Marten-style combat boots, which are flat with grips and rise above the ankle. Great for everyday attire, they put a stamp of attitude on any casual outfit when worn with ripped jeans and a basic, loose-fitting t-shirt. The second type of boots are over-the-knee gothic stilettos that are ideal for smart casual occasions. Simply wear them with a pleated tartan miniskirt and an oversized black top to put the finishing touch on your glam rocker ensemble.
Layered Necklaces
Forget less is more because more is definitely more when it comes to this key rocker accessory.
Layering black, white, silver, and gold necklaces of different lengths and thicknesses helps to achieve an effortless, thrown-together aesthetic that is synonymous with rocker chic style. When it comes to materials, opt for a simple rope necklace for a dressed down, muted look. Alternatively, if you want to make a serious style statement, choose metal chains that have skulls or spikes.
Lace, Sheer or Fishnet Gloves
For a nod to the punk rock fashion movement that was popular in the seventies, grab yourself a pair of lace, sheer or fishnet gloves to wear with your rocker outfit.
Whether you combine fingerless options with a black dress and lace-up boots for a slightly more gothic look or opt for leather to channel full-on biker babe, it's all about amping up the sass with this unconventional accessory.
Bowler Hats
A bowler hat can add a cute, quirky feel to your rocker chic vibes.
Merely pair it with your favorite rock band t-shirt, skinny-fit jeans and leather jacket for a look that screams casual cool.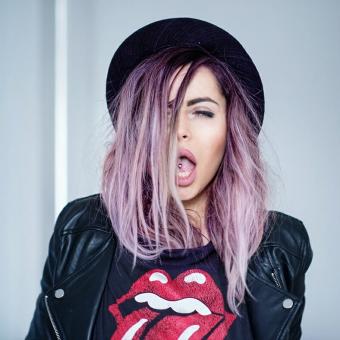 Studded or Belted Boots
In addition to lace-up boots, studded or belted boots with buckles make a fierce addition to the rocker chic look.
Black boots, in general, contribute to the aesthetic, but studs or belts create an extra edge. Team yours with torn leggings or ripped tights and an oversized rock t-shirt for a seriously stylish ensemble.
Spiky or Studded Bangles
If you're not brave enough to wear layered necklaces featuring spikes and studs, consider them in bangle form instead.
Wear one on its own or layer it up to add visual intrigue to your outfit. Team your bangle with ripped jeans and a basic tank top for an alluring rocker chic twist on traditional casual wear.
Leather Belts
If you want to implement a minimalistic touch of rocker chic to your slouchy top and skinny-fit jeans combo, wear a leather belt on your hips. For something a little bolder, opt for a leather belt that features studs, skulls, or spikes.
Trying to dress up your outfit for a smart casual event? Swap your top and jeans for a tunic with ripped leggings and incorporate a chunky leather belt at the waist to define your body's natural curves.
Beanie Hats
For a hint of 1990's grunge made famous by rock bands such as Nirvana, Foo Fighters, and Soundgarden, polish off your everyday attire with a beanie hat.
A beanie hat is a great beginner's accessory when it comes to the rocker chic look. You can even use yours to add a splash of color to your outfit if you're wearing neutrals or minimal hues.
Fishnet or Ripped Tights
A key rocker chic staple for those who dare to be different, fishnet or ripped tights can be used to put a unique spin on a smart casual outfit.
Alternatively, pair them with a tank top, plaid shirt, and denim shorts circa the 1990s, and you can't deny the striking effect that they have. They're a guaranteed head-turner.
Chokers
To add a touch of rocker chic to your everyday style, why not invest in a choker or two.
Whether you layer them up, opt for diverse materials and hues, or combine them with other rocker jewelry, simply wear them with confidence to truly shine.
Dark Sunglasses
If you only choose to rock one key accessory to create this adventurous aesthetic, let it be dark sunglasses.
Whether you prefer Wayfarer-style, micro-frames, or John Lennon-style tea sunglasses, make sure to choose classic black for a bold retro vibe. Even though they will incorporate a touch of class to any rocker chic outfit, dark sunglasses make the most impact when they're paired with a sexy leather jacket.
Converse
To inject some 1990s grunge into your rocker ensemble, throw it back with Converse sneakers.
Converse instantly put an androgynous twist on your outfit to make you stand out for all the right reasons, especially when you combine them with a plaid shirt, boyfriend fit jeans, and a leather jacket.
Embracing Rocker Chic
Whether you choose to use one key accessory or mix and match several, these options undeniably create diverse and versatile rocker chic looks. Simply shop around and experiment to find out what works for you.