What's Hot: Women's Maxi Dresses
Women's maxi dresses are a hot trend that many have fallen in love with. These light, airy dresses have many advantages - they offer a romantic, sexy style that is also comfortable - and since maxi dresses are loose-fitting, they are also a bit more forgiving than many other types of dresses.
How to choose the right look for you? Browse these gorgeous maxi dresses for ideas on different styles...
The Sexy Sleeved Maxi Dress
Just because you might prefer a looser silhouette doesn't mean you can't show a little skin. This Chalayan maxi dress highlights some of the biggest current trends - from the stark, minimalist style, to the cold-shoulder cutouts, to the return to neutral colors. The relaxed shape is offset by draped cutouts that bare just enough of your arms to make an impact. Wear this look for virtually anything - from the office to date-night, and everything in between. Dress it up with heels and down with casual sandals.
The Boho-Chic Maxi Dress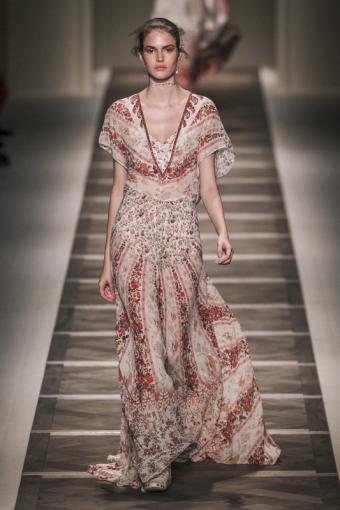 The gypsy-esque style of maxi dresses automatically lends a boho-chic feel, but ultra-flowy styles like this pretty floral print dress from Etro really emphasize the romance. Perfect for weddings or garden parties, throw your hair into a loose chignon and pair with strappy sandals for a feminine look, or slip into a pair of slides for a more comfortable daytime approach.
The Solid Color Maxi Dress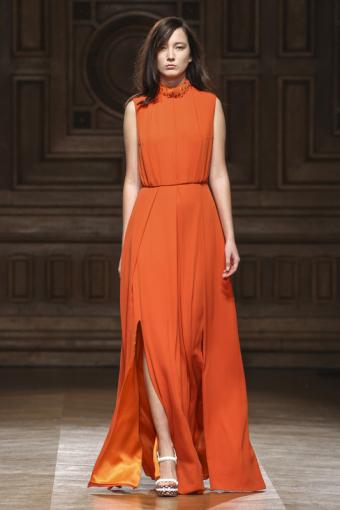 A solid color maxi dress is the perfect summery go-to style. A monochrome look is stately, elegant, and creates a gorgeous silhouette. A rust-hued maxi dress like this can easily go from day to evening with the right accessories! Swap your tote and blazer for a clutch and statement jewels, and you are all set.
Style Tip: When choosing solid color maxi dresses, look for unique details in the top, like the embellished collar or front slits on this sleek YDE dress.
The Bold Printed Maxi Dress
Bold prints are found in many maxi dress styles and can really add drama to a look. With a bright printed maxi, keep your accessories minimal and let the dress do the talking.
A simple shape, like the one shown in this slinky maxi dress from Kenzo, allows the bold print to take center stage. Pair with white accessories for the ultimate vacation look that can go right from day to dinner.
The Halter Style Maxi Dress
Halter style tops are popular on women's maxi dresses - you can find both full halters as well as looks that barely escape being strapless, like this multi-hued ombré number from Chloé. With a dress that floats around the body like this one, it's important to keep proportions in mind. Keep your shoulders bare and your jewelry on the delicate side for an elegant look.
The Casual Punk Maxi Dress
If ruffles and floral prints are banned from your closet, there are plenty of edgy and even punk looking maxi dresses to choose from.
This AV Vandevorst casual punk dress can be worn for day or night - dress it up with platforms and artsy jewelry, or go for a fully street-inspired look by pairing it with black boots or white sneakers and a velvet choker.
The Faux Maxi Dress
For a fresh take on the maxi dress, create your own look with a flowy top and long billowing skirt, like this pairing from Roberto Cavalli. Instead of tucking in your top, leave it long and loose to invoke a seventies bohemian vibe. Play with different textures to add dimension and pair colors from the same family to keep the look cohesive. For a twist, add a blazer to give the look a more structured feel.
Maxi Dresses for Petites
Petites can wear maxi dresses too - but a few tips can keep these shapes from overwhelming smaller frames.
Choose styles that are ankle length rather than floor length.
Instead of a voluminous dress, choose styles with a structured top and a bit less fabric in the skirt.
Look for dresses that are strapless or barely there shoulder straps to give the illusion of length.
Petites can still wear bold designs, but opt for medium prints rather than extra large ones.
The Elegant Maxi Dress
While many women's maxi dresses are on the casual side, you can create a sultry statement with a dress that is decidedly evening wear.
Look for balance and unique details to keep the dress both sexy and elegant. In this cream-hued Fausto Puglisi dress, for example, the bare arm is balanced by a single billowing sleeve.