Cute Winter Outfits with Tights
When you want to look incredible and still keep winter's chill at bay, winter outfits with tights are the perfect answer. There are hundreds of ways to create great clothing ensembles including tights; these 10 runway looks are just a few inspirations. Shown here, a pink and navy dress with coordinating navy tights looks chic and polished.
Winter Dresses and Tights
Tights make natural accessories for winter dresses made of heavier fabrics. In this ensemble by Jean-Charles De Castelbajac, the winter-weight dress looks excellent with opaque tights.
Bold Color
Tights in a bold color work beautifully with a mini dress, as seen in this look by Olympia Le Tan. Not only is red a great winter color, it adds a powerful pop of style perfect for when you want to brighten up your look.
Chic and Professional
An office -appropriate winter dress and jacket, like this design by Valentin Yudashkin, looks great with tights in a dark color. The oxford-inspired shoe design keeps the look chic and polished rather than sexy.
Turtleneck and Sheer Skirt
Tights can help you create an alluring evening look without showing any skin. A turtleck paired with a colorful blouse covers you completely on top, while a sheer patterned skirt over tights offers a hint of sexiness while keeping covered.
Casual Winter Outfit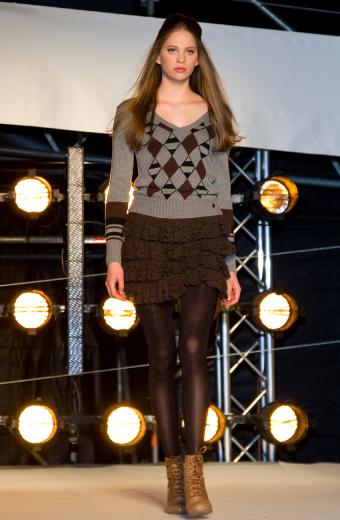 A patterned sweater, skirt with tiered ruffles, and rugged yet stylish boots paired with tights all work together to create a casual and fun winter outfit. Although the colors are neutral, the textures and designs give it a playful feel. Depending on your work environment, the muted colors mean this could also be an appropriate work outfit.
Colorful and Coordinated
Although this look includes several colors ranging from a pop of bright coral on the dress to the rich rose shades in the coordinating jacket, the sleek lines of the dress and jacket make it look classy and sophisticated. The matching tights enhance the look in this design by Anna Sui.
Stylish Belted Skirt and Sweater
A dark-colored modern sweater, like this navy one with sexy cut-outs, can be paired with a suede skirt in a bright color for a bold evening ensenble, as seen in this combo by Balmain. The tights, worn a similar shade to the sweater, highlight the skirt and create a sleek style. Use a belt that coordinates with the sweater and tights to pull the look together, or opt for a contrasting belt to create a vibrant, unique look.
Cropped Pants and Blouse
Don't put away those cute cropped pants or shorts at the first sign of snow! Wear them with tights to add interest and make them wearable for winter instead. The bold style shown here is trendy with its bright colors, cropped jacket, and textured thigh high tights.
Layered Looks with Tights
Layering is essential when the temperatures start to drop. A chunky sweater paired with a pretty skirt and tights in playful patterns creates a bright, playful feel. Have fun coming up with layered looks featuring different textures and patterns, accessorizing them with tights for a great winter look.
For more ideas on cool-weather clothing that goes from the runway to the real world, see the most wearable fall fashion trends for women.