You know it's spring when women's Easter dresses start hitting the racks in stores. These pretty and feminine styles are often pastel in keeping with the new season, but you can also choose deeper, more dramatic colors if they suit you better.
Because women's Easter dresses are often worn for religious services, it's best to choose styles that are modest, but this doesn't mean boring! Floral details are popular, but you can also go with polka dots or gingham.
Easter is the perfect time to pull out a beautiful spring hat to accessorize your outfit. Enjoy this spring in colorful fashions perfect for the season.
Pretty in pink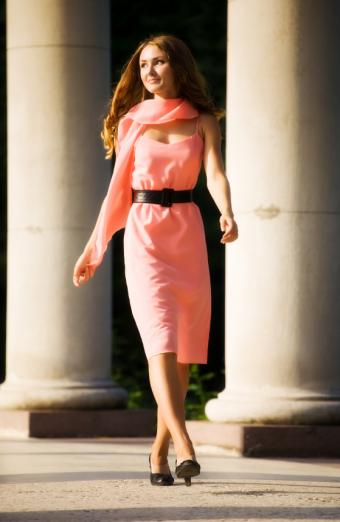 Pale and pastel colors are the perfect soft touch to Easter fashions. You can add a little edge with dark accessories like this belt.
Nice little details
Flattering details like V-necks and a crisscrossing bodice are slimming. Hems that hit the knee make your legs look longer, a great tip for petite women.
Women's Easter dresses and hats
There's no better time to wear a beautiful spring hat than at Easter. Mature ladies can wear dresses topped with short jackets. Add a dramatic hat for a chic, elegant outfit.
Women's purple Easter dress
Purple comes in many shades, including pale versions as seen here. Pastels can be tricky, so be sure to choose colors that complement your complexion instead of washing you out.
Polka dot pretty
Polka dots come in and out of vogue, but they make a stylish statement on Easter fashion. A strapless dress like this can be topped with a flirty cropped cardigan to keep the chill off your shoulders.
Spring loves floral details
Not surprisingly, many Easter styles incorporate florals. You can go with allover floral dresses, or choose more subtle designs like this.
A season of renewal
Wearing green is a simple way to fit your fashion into the renewal theme of spring. A dress like this celebrates the spirit of rebirth.
Deeply dramatic
While you'll have no trouble finding pastel dresses for Easter, you can always opt for deep, dramatic colors if they're more your style. A long dress works with elegant details like gloves and a hat.
Classic and easy
Can't decide on the right color dress for you? Then go with white, a classic neutral color that looks great on anyone. Shop for your perfect Easter dress when new spring fashions for women hit the stores for the best selection. You'll then have plenty of time to accessorize your outfit. When Easter comes, you'll be ready in a fashionable ensemble just right for spring.