The Classic White Look
Summer sun dresses are the perfect way to enjoy the warmer months.
Sheer and flirty, lightweight and versatile, these dresses go from day to night in a cinch!
The key to extending these fabulous wardrobe pieces is to add accessories. During the day, a pair of flats and a straw handbag is the way to go. When the sun dips, reach for a clutch purse and a pair of heels.
So, why wait? Browse these images and imagine yourself in one of these amazing dresses!
Color and Bold Print
Love this dress for its short, flirty look, its bold, standout color, and its glorious flower print.
Everything about this dress will knock 'em dead. Their eyes won't know where to look first, but one thing is certain: All eyes will be on you!
Sweet Romance
Summer sun dresses often equal sweet romance. Who can resist this lovely, flowing fabric?
Whether at a park, a picnic or running errands, a dress like this will make it seem as if you're literally floating over the ground.
When paired in a soft, sunny yellow, this dress can do no wrong.
For Evenings Out
Whether it's at a sidewalk café or a trip to a restaurant, dressing up a sundress in a sophisticated color lets them know you mean business.
This look is worldly and elegant, without being "too much" for those warm, sultry nights.
Flirty Summer Sun Dresses
Different styles, like a halter neck, add a little bit of the vixen back into these sweet summer looks.
With this dress, we see it done in two ways. First, there's the deep, bold, almost animal-like magnetism of the print. Second, that gorgeous halter style that draws the eye to the shoulders.
Third? Well, pair the two together and you get a great outfit!
A Classic Look
With this dress, we see the classic look of lazy, summer days.
Fitting in a country-side scene, this dress is equally appropriate for city living.
What you'll love best about this look is the way your personality will shine through, and that's always season appropriate!
City Chic
For those who like their looks to have a bit of a city edge, consider a summer dress with a rough and tumble quality like that of cargo.
Perfect for those hot subway cars, and rushing in and out of coffee shops, this dress will stop and make 'em look.
Perfect for Barbeques
Nothing looks more chic at a fun-filled barbecue than an amazing summer dress in a bold color.
This look is kept appropriate by its inviting pattern; a bouquet of beautiful flowers is never wrong in the summer.
Additionally, the deep v-neck line allows the appropriate touch of femininity.
Don't Forget the Hat!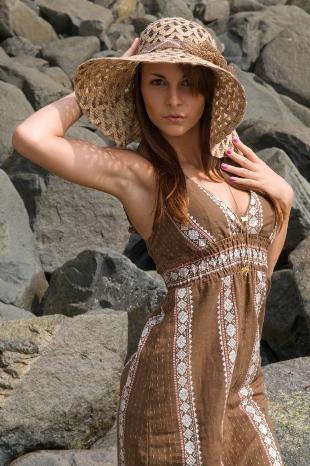 What's a sundress without a flowing hat?
Not only is this accessory dress-appropriate, but it also helps to keep those UV rays at bay.
Dress this look up by pairing it with a wide belt and adding heels. Now you're ready for everyone's favorite season.