This gallery of 1960s women's fashions shows clothing from the decade of free love and flower power, as well as modern clothing inspired by the 1960s. Clothing wise, this decade was all about bright colors and bold patterns for both men and women.
This simple dress with a bold bright pattern gets a modern update with the newsboy cap and pointy toed red boots.
Bold patterns were big in the 60s. Here's an example of how both men and women's clothing designs were heavily patterned during the decade.
The sunglasses and headband paired with a psychedellic patterned top in this totally Mod look are a typical representation of 1960s fashion accessories.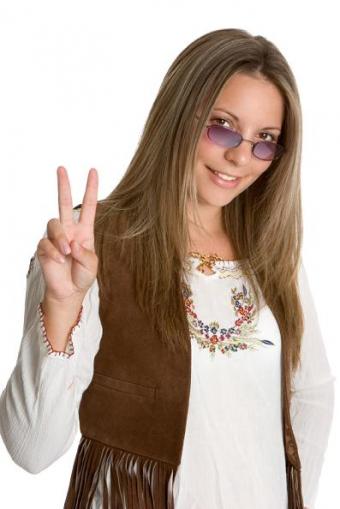 Fringe was big in the 60s. The fringe vest and small John Lennon style sunglasses in this picture is an example of another very popular look for the decade.
This light pink dress is an example of a more subdued style of the 1960s. The pink metallic go-go boots add a little kick to the ensemble. You could give this dress a modern touch by pairing it with a pair of pink metallic strappy heels.
During the 60s, peasant looks were big. This free flowing satin shirt is a great example of 1960s style women's tops.
1960s women's fashion was all about bold patterns and bright colors, but not always necessarily a combination of both. This mini dress is a great example of the bright colored clothing that was favored during this decade.