Sexy Sweaters Come in All Forms
Sexy sweaters range from fitted, sleek designs to ankle-skimming dresses in bold hues or neutrals. Use them to dress an outfit up or down while keeping that alluring vibe. Some sexy sweaters are even innocent, pulling double-duty by covering you up loosely but pulling all eyes to your silhouette as you pass. Shown here, a cropped black sweater by Ralph Lauren is simple yet sexy with its short, fitted style.
Add Pop With a Pattern
Adding a pop of pattern, like the white stars on this black sweater, can brighten up your winter wardrobe. A patterned sweater is great for casual wear. Worn with a pair of casual slacks or denim jeans, it offers a cute yet sexy style.
Flattering Long Sweaters
A sweater dress, no matter what the color, is beautiful on most body types. A draping style with a plunging neckline creates a sexy look that isn't form-fitting, perfect for the woman who wants a looser design that is still alluring. Long sweaters tend to emphasize the good curves and disguise the ones you'd rather not have.
Dress Up or Down
A simple sweater that hits right at the waistline can be worn dressed up, as with this fancy skirt, or dressed down with blue jeans and boots. Sexy yet simple sweaters like this one are great staples, especially for creative types. Done in a neutral color, they can be worn with virtually anything in your closet.
Bright, Bold, and Sexy
The fitted style and zippered design of a bold, bright sweater create a sexy look. If you want to wear a style like this without showing too much skin, accessorize creatively, as the model does here with a long statmement necklace. You could also use a fun scarf, or layer it with a fitted tank underneath for more options.
Layered Looks
Take a break from thick, chunky sweaters and look for thin, lightweight styles. The sheer long sleeved sweater shown here is layered under a chic contrasting sweater tank creating a streamlined, sexy style that is still warm enough for fall or winter. Worn with a blazer, it's work-appropriate; without a jacket it becomes a sizzling evening look. Day or night, cinching in the waist with a belt will give your sweater a sexy new twist.
Wrap Yourself in Sexiness
Wrap sweaters add curves to all the right areas, emphasize the decolletage, and create the illusion of a smaller waist. This flattering look works well for most body types, and is also very versatile. A wrap style sweater can easily be dressed up with a colorful skirt, as seen here, or dressed down and worn with jeans.
Versatility at Its Finest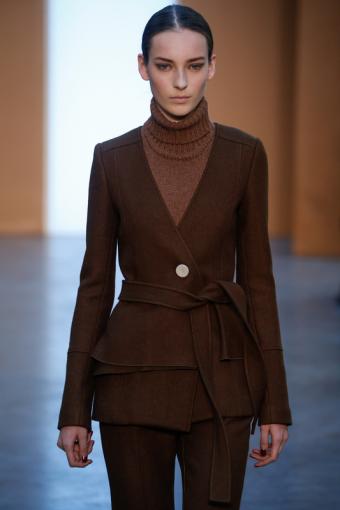 There's always the timeless elegance of a thin, fitted turtleneck sweater. The options are endless with these. Dress them up or down and accessorize them with chunky or dainty pieces. Turtlenecks offer a flattering look for most women, and they can easily go from work to play as well.
Whether you choose a loose sweater with a sexy neckline, or a fitted design that shows off yoru curves, there are tremendous options when it comes to stylish sweaters.