Finding Semi-Formal Dresses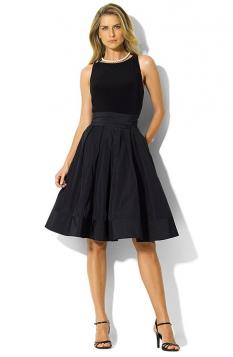 Semi-formal dresses are perfect for a variety of occasions - from that special date night to an evening wedding, cocktail party, or other dressy event. Styles vary dramatically within this category, and there's sure to be one that's perfect for your body type, budget, personal taste, and event requirements.
Popular Semi-Formal Styles
Semi-formal dresses are shorter than their more formal evening gown counterparts. Think cocktail numbers, tea length dresses and other styles that graze the knee or are shorter. There is also quite a bit of variation when it comes to sleeve length and silhouette.
Sleeveless Dresses
A sleeveless semi-formal dress is a great choice for almost any event, especially in the spring and summer months. You'll find a wide range of silhouettes without sleeves, one of which will be perfect. If you're not confident about your arms, you may prefer to pair the sleeveless dress with a wrap or light formal sweater or choose a dress with sleeves instead.
Try one of these lovely styles:
Dresses With Long Sleeves
Long sleeves are perfect for chilly winter events, as well as to just to keep your arms covered. Long-sleeved styles can work for any age, although younger women should select shorter hemlines to balance the extra fabric. These dresses look beautiful at events where more coverage is needed, such as very conservative weddings and professional events, but they also work for an evening out on the town.
This pretty design may be perfect for you:
Strapless Dresses
If you're confident about your arms and shoulders, nothing beats a semi-formal strapless dress when it comes to feeling girly and stylish. To keep the look classy, especially for mature women, choose a hemline that hits at or below the knees or a shape that isn't too fitted.
Try one of these beautiful designs:
One-Shoulder Dresses
An of-the-moment choice for semi-formal dresses is the one-shoulder neckline. This modern style offers plenty of coverage while still being sexy and fun. To wear this style, you should feel confident about your arms, since adding a wrap or sweater could spoil the effect.
Try this pretty option:
Experiment to Find Your Perfect Dress
Whether you choose a modest long-sleeved style or a flirty strapless number, there's a great semi-formal dress out there waiting for you to try it on. Experiment with different necklines, fabrics, and lengths to find the perfect dress for you.