Stylish One Shoulder Shirts
With the return of interest in structure and asymmetry, one shoulder shirts have never been more popular. Also referred to as 'goddess' style blouses, these tops might make you feel like one! From sleeveless to long-sleeved, the options are limitless.
Pictured: Paneled pieces and colorblocked details make for a minimalist, utilitarian top that is both modern and elegant.
Draped Elegance
A dark, jewel-toned color with a batwing sleeve offers a dramatic look. The draping on this top makes it the perfect choice for a semi-dressy or more casual outfit. Wear it with jeans or leggings for day, or a pencil skirt for evening or the office.
Off-the-Shoulder
Buy Now"
One shoulder shirts don't necessarily have to come with a single sleeve. An asymmetric, stretched boatneck looks effortlessly sexy without showing off too much skin. Highlight your decolletage with a pair of chandelier earrings - or pull back your hair to accentuate your neck.
Fringe Fringe Fringe!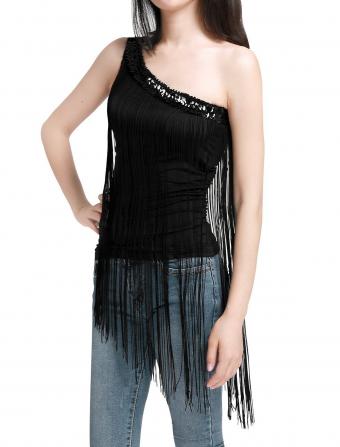 Buy Now"
While a one shoulder top will certainly make a statement, a one shoulder top with dramatic fringe will take that statement to the next level. Keep your look poised by going for all-black to keep the effect sophisticated. Perfect for a dancing the night away, all you need are your favorite jeans and a pair of stilettos to rule the dance floor.
The Minimalist Effect
Buy Now"
If your style is more on the minimalist side, a simple one shoulder tank will work beautifully with all of your basics. Think of this look as an everyday, casual outfit, except better. Toss on some hoop earrings for an updated, streetstyle-ready approach.
One Shoulder Ruffled Shirt
Buy Now"
Pretty and feminine, a one shoulder style with ruffles adds detail without being overwhelming. Add a swipe of matching lipstick and you've got one flirty look that's perfect for date night!
Detailed Shoulders
For added interest, look for tops that have unique details, like the bow on the strap of this one shoulder top. This look is perfect for a more formal event and looks lovely when worn with a flowing maxi skirt.
Disco Queen
Buy Now"
Some tops are designed to be just plain sexy! Save pieces like this one shoulder sequin top for the clubs, or when the occasion's right to don your sexiest look.
One shoulder tops come in a plethora of styles - from flowing skirts to a pair of cuffed jeans, there's one for every outfit and for every ocassion!