Jennifer Lopez Black Lace Gown
Looking for a Jennifer Lopez black lace gown? Take a look at some of Jennifer Lopez's most popular black lace dress styles, including red carpet halter dresses and more daring items, and then choose which Jennifer Lopez black lace dress works best for you.
Dolce and Gabbana Black Lace Dress
Jennifer Lopez's most notable selection was a Dolce and Gabbana black lace dress with a deep v-plunge in the front and back, as well as a corset-style tie that held the close-fitting garment together. On one shoulder, the dress featured matching black blooms, and the skirt of the dress was very elongated and decorative.
What made Lopez's black dress so popular wasn't just the gorgeous celebrity who donned it. This black lace dress made an appearance at the Fashion Institute of Technology as part of the "Glamour, Fashion, Film, Fantasy" Exhibition, which was a notable New York event for students and society alike. Other items included in the exhibition were worn by Celine Dion, Marlene Dietrich, and Barbra Streisand.
Casual Black Lace Dresses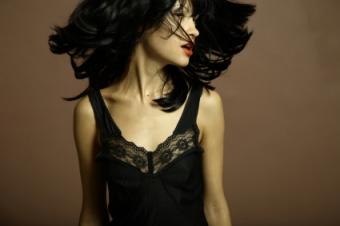 Besides wearing black lace formal gowns, Jennifer Lopez often popped up at more casual events and benefits wearing casual dresses in black lace.
Bell-Sleeved Black Lace: Jennifer Lopez worn a short mini dress with belled, see-through sleeves when she hit a past event, layering on a good deal of gold jewelry and accessories to complement her selections.
Tight Black Lace: Jennifer Lopez is not afraid of form-fitting selections with style, and she worn a demure, high-necked black lace dress during a past Fashion Week event.
Bubble Dresses: A tight, bubble hem like Jennifer Lopez will make the most of your black lace dress, without a doubt.