If you're looking for fashion tips for petite women, fashion expert Kim Williams Dahlman has the answers. The author of The Petite Handbook, a best-selling fashion bible for women of smaller stature, and a leading expert on fashion and style solutions for women under 5'4", Kim has a passion for helping women look and feel their very best.
In this new interview with LoveToKnow, Kim shares her deep-rooted love of style and design, her inspirations for The Petite Handbook, and some invaluable fashion tips for petites.
Fashion Tips for Petite Women
Stylish Shopping for Petites
LoveToKnow (LTK): One common complaint from twenty- and thirty-something petite women is that many of the petite clothing selections for ladies in standard department stores are styled in a more mature manner than they'd like - yet the clothing in the juniors departments that might work in terms of sizing aren't appropriate either. Do you have suggestions for specific stores petite women should shop for age-appropriate, stylish clothing?
Kim Williams Dahlman (KWD): It is important to understand that a petite department is essentially a "store within a store" trying to satisfy the fashion needs of diverse age groups on very limited budgets. Clearly, some department stores do a better job than others. The largest branch of your local department store will likely have the biggest and best petite selection. Private labels, such as Macy's Inc. brand, usually offer the trendiest looks for petites.
Petites and Prints
LTK: Petite woman are often told to avoid prints as they can 'overpower' them - yet many petite women fall in love with prints including some of the bold, large prints on contemporary blouses and dresses. Do you agree that petites should avoid prints, or can you suggest ways women can incorporate them into their wardrobe in a flattering way for their stature?
KWD: Prints are a major fashion trend and perfectly acceptable for petite women. However, she should always make sure that the main pattern in the print she chooses is the same size or smaller than the size of her fist to be properly proportioned for her body frame.
Top Fashion Secrets for Petites
LTK: What would be your number one piece of fashion advice for petite women?
KWD: I would say to learn how to use color to create optical illusions. Three of the Top 10 Petite Tips in The Petite Handbook involve using color to flatter the petite frame. Monochromatic dressing, wearing the same color from head-to-toe always makes a petite woman look taller. Tonal combinations and unbroken lines of color on the body achieve the same heightening effect.
The Petite Handbook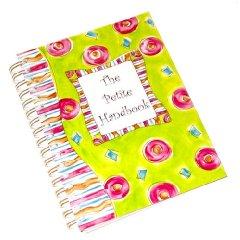 LTK: As a petite fashion expert, one of your primary interests is education - including shows, workshops, and training, and your best-selling book, The Petite Handbook. How did you come up with the idea for the book?'''
KWD: As I hosted petite events across the country over the years, countless numbers of petite women encouraged me to put all of my helpful tips down on paper. I finally listened. My goal when writing the book was to share all of my fashion knowledge in a concise, easy-to-read format rather than the "textbook" style of many other fashion books.
LTK: The book is also unique in that it is more than a handbook - it's small enough to toss in your handbag and bring to the store. What are the most common clothing mistakes that petites make - and how does having The Petite Shopping Handbook as a shopping companion prevent them?'''
KWD: Petite women come in all shapes and sizes. What looks good on a size two petite may not look so good on a size twelve petite and vice versa. All petite women should dress for their figure shape and learn how to maximize their assets, minimize their flaws. An entire section of The Petite Handbook is dedicated to helping petite women determine their figure shape and best looks.
Future Plans
LTK: In addition to continuing to offer fashion education and serve retail clients who hire your Fashion Marketing Services (and keeping The Petite Handbook stocked for new readers!), do you have any other projects or pursuits for petite fashion planned for the future?
KWD: I am so glad you asked this question! First of all, I have a new revised edition of The Petite Handbook currently available. I am also working on two very exciting new projects. I am starting a free online newsletter this fall filled with fashion advice, trend updates, and shopping tips exclusively for women 5'4" and under. You can sign up for a free subscription at the official website.
About Kim Williams Dahlman
LTK: Kim, you have over 20 years experience in the fashion industry and have become a nationally recognized expert on petite fashion. What first inspired your passion for fashion?
KWD: My mother first inspired my passion for fashion. I was the best dressed little girl in my hometown. My mother was an excellent seamstress and made many of my outfits. When I was six years old, I actually designed several back-to-school outfits for Mom to make for me. That first design project led to a long, fulfilling career in fashion.
LTK: How would you describe your own personal sense of style or fashion philosophy?
KWD: I would describe my personal style as classic contemporary - classic looks with a fashion twist. My fashion philosophy is that there is very little that a petite women cannot wear as long as she follows a few simple rules. The key is how you put outfits together.
Be sure to visit www.thepetitehandbook.com for more information and to reserve your copy of The Petite Handbook.