If you live in Canada, chances are you're familiar with Fairweather dresses. The lineup of style-conscious, trendy garments is just part of what makes Fairweather such a venerable name in the world of fashion retail.
Selection of Fairweather Dresses
Fairweather is known for its outstanding selection of dresses. In fact, teenage girls shopping for the prom routinely make this store their first stop, thanks to the wide range of stylish, affordable dresses that typically start at under $100. They aren't just for the prom, though. The store's dressy styles are appropriate for bridesmaids, parties, casual wear and much more, and there's a wide enough selection to suit almost all tastes.
As well as in store, you can buy dresses via the Fairweather website for any occasion. Many dresses from their current collection are ideal for glamorous evenings out. Others are more suitable for a day spent running errands or at the office.
Although the company doesn't currently cater specifically to plus size ladies, their sizes run up to XL.
Current Dress Styles
You can find a variety of different options in-store and on the Fairweather website.
Sweater Dresses
The first selection of dresses on offer are cute and colorful sweater dresses for those chilly days.
This Long Sleeve Choker Dress is very on-trend with the choker cutout detailing. As well as being long sleeved, it's manufactured in a stretchy fabric, providing both a comfy and fashion-forward look for the wintry season. It is available for about $25 in sizes S-XL.
Workwear
In addition to sweater dresses, Fairweather have an array of workwear dresses in stock.
This Tie Waist Casual Dress is ideal for the office, as it can be dressed up with pantyhose, stilettos, and statement jewelry for important meetings, but also dressed down for Casual Friday with leggings and flats. Available for around $40 in sizes S-XL, the burgundy hue of this shirt dress also taps into one of this season's hottest color trends.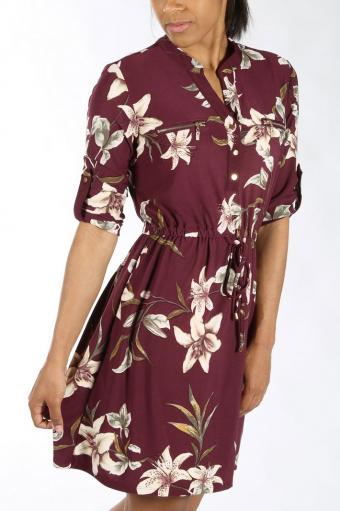 Casual Looks
For casual affairs, such as shopping or running errands, Fairweather provide a range of day dresses.
This Printed Tie Waist Dress is the perfect trans-seasonal piece that can be worn for a multitude of occasions. The animal print, adjustable waist tie, and wide sleeve style is fun and playful, available in sizes S-L and only about $30.
Cocktail Dresses
The final selection of dresses that can be purchased via the Fairweather website is cocktail dresses.
This Lace Sleeve Cocktail Dress has three-quarter length lace sleeves and comes in a stunning navy blue color. Available for about $40 in sizes S-XL, it would look fabulous and make you stand out for all the right reasons at smart casual or black tie events. Also, the built-in belt defines the waist which makes it a great option for curvy ladies.
Online Shipping Costs
Currently Fairweather only offers domestic shipping via Canada Post and doesn't currently ship internationally. You can receive free Standard Shipping within Canada for purchases over $100, excluding taxes; otherwise, Standard Shipping costs about $5 and usually takes 3-7 business days.
The earliest you can receive your item is within one to three business days if you choose Fairweather's Priority Shipping option.
Score a Deal
It's always great to score a deal on your Fairweather dresses. Sign up for the Fairweather email newsletter and you'll receive exclusive offers, loyalty discounts, and more. During the holiday season, keep an eye out for "friends and family" sales, which offer generous discounts off your total order. For the Fairweather store nearest you, visit the company's store locator.
Secondhand Fairweather Dresses
If a Fairweather store or their website doesn't currently carry what you're looking for, or if you're based internationally, you can buy pre-loved Fairweather dresses from other places online such as Kijiji and eBay. Examples of what you may find include the following styles:
More About Fairweather
Founded in 1867, the Canadian company Fairweather has locations in about 100 shopping malls across the country. They specialize in contemporary fashions and accessories for fashion-forward women ranging from world-renowned brand names to exclusive in-house labels. Among the many items in the product line are dresses, skirts, suits, outerwear, sportswear, knit tops and more.
In addition, Fairweather operates three outlet stores in Canadian shopping centers, which offer a selection of their clearance merchandise. These are a big draw for the young, trend-obsessed consumer because of the eclectic decor. Complete with runway-style ramps gracing the middle of the sales floor; gleaming, stark white floors; and even paisley-accented dressing rooms with pendants hanging from the ceiling and cube stools; it's an interior designer's dream that immediately draws women inside.
Stylish Dresses for All
The company's wide selection of dresses and other clothing has made them a popular retailer for Canadian women for decades. By combining top brands with unique style, the company offers an appealing shopping experience for any woman. There's no doubt that Fairweather's current selection of sweater dresses, workwear dresses, day dresses, and cocktail dresses offer high quality and fashion-forward designs for any occasion.