The temperatures rise, the sun beats down and everything suddenly seems a lot more fun - yes, it's definitely time to break out those cute summer outfits! There's nothing that says "laid-back" and "casual" quite like lightweight summer garments. It's as easy to be glamorous as it is to relax in your shorts and tanks.
Summer Outfit Options
Depending on what you have lined up, you may not always be able to get away with throwing a t-shirt on with a denim mini skirt or pairing a tank top with those ultra-short shorts. With various occasions and events in mind, these options make it easy to break down your wardrobe into manageable, cute and comfortable outfits.
Professional
The office is sweltering, you're ready to faint, and the weatherman promises that tomorrow will be even hotter. You won't lose your cool though. Skip stifling suits if you can and try any of these chic, adorable daytime pieces:
Play
Whether you're on a lunch date, walking around the park or doing some shopping in an air-conditioned mall, you'll feel best in something weightless and airy.
Dates
Dates definitely fall into the "play" category, but they stand alone because they usually demand a slightly more well-planned ensemble.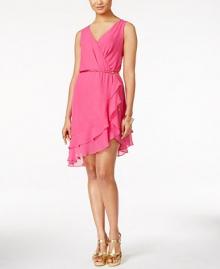 Where to Shop
These retailers are the go-to spots when you're interested in updating your summer wardrobe with a few new outfits.
Build a Summer Wardrobe
Chances are your wardrobe is already loaded with summery essentials. Between t-shirts, tank tops, shorts, bikinis, one-piece swimsuits, sundresses, mini skirts and sandals, you've got your summer clothing agenda covered. The trick to building a functional wardrobe though, is to collect pieces that work in harmony with one another. Mingling with your trendy pieces should be a few classics that you turn to year after year. Pair them with one another and you're bound to come up with more than a few cute summer outfits to see you through the season.
Since summer presents so many social opportunities, you need a variety of outfits to suit each unique occasion. From a business-casual lunch in an outdoor setting to a low-key poolside barbecue to a stroll about town with the girls, each demands a respective outfit that will keep you looking appropriate and perhaps even more importantly, feeling cool and comfortable.
Take Your Cue
Of course, ideas for cute summer outfits are absolutely everywhere. You need only flip through a magazine, watch a television show, browse the Internet or walk through a mall to find inspiration. Be creative. If you like a few of the trendy dress styles, purchase them at a store that offers reasonable prices like Old Navy or Target. That way you won't feel guilty if you fall out of love by the time next summer rolls around. Build the rest of your wardrobe on smart staples that you'll wear summer after summer. Don't be afraid to spend a bit more on a dress that appears to be a worthwhile investment - if it's well made and makes you look and feel like a million bucks, it's worth it!