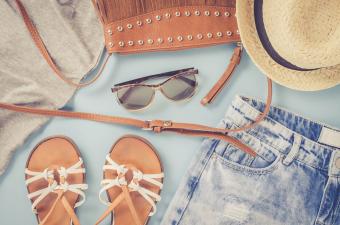 Even if you feel like a fashion novice, you can create your own fashionable outfits. Websites act as your consultants so you don't have to hustle from store to store, hoping to patch together the perfect outfit. You can create just what you want - and know exactly where to purchase it - with a few clicks and dragging items into the empty box on the page.
Online Outfit Creation Tools
Sometimes shopping online is difficult because you'll find pieces from several different stores, but you have a hard time imagining whether they would complement each other. Sites like Boden and TrendMemake it very easy to decide what you do and do not need, or what will and will not match. Not only do you get to pull in designs from multiple brand names, from tops to shoes, and even makeup colors, but you can get others' feedback, too.
Boden
At Boden, you can create your own outfits or get inspiration from some of the top outfits of the season all on the same page. Once you're finished with your creation, you can click a single button to get started in the purchasing process.
Helpful suggestions: As you're building your outfit, you'll see suggested clothing items and accessories to the right of the model. This may help open you up to ideas you wouldn't have considered, like shopping with a friend or having a helpful sales associate at your beck and call.
Many category options: Categories here include Accessories, Coats & Jackets, Dresses, Knitwear, Nightwear, Shirts & Blouses, Shoes & Boots, Shorts, Skirts, Swimwear, Tops & T-shirts, Trousers & Jeans, and Tunics & Kaftans. You can refine your choices by color, price, or size, then save your finished outfit to consider later.
Budget wisely: There's a running total at the top, so if you're working with a budget, it makes it easy to keep track of what you could possibly be spending at the end.
TrendMe
TrendMe allows you to drag and drop items into an empty area on the page and create your own outfits in collage form.
Select style and accessories: Filter by brand, color, sex, or fashion style. Choose from accessories, bags, all types of clothing (even track suits and wedding dresses!), equipment, jewelry, shoes, and more.
Design and buy: Once your design is done, you can adjust the background, overall color (sepia, black and white, minor adjustments in brightness, etc), and make other minor edits. The items you've added to your collage will show up at the bottom. From there, you can click each item to make a purchase.
Hassle-Free Creations
If you want to create your own outfit without too much of a hassle, doing it online is a pain-free way to go. Advantages include the following:
Immediately see how your items pair up, click to shop, and if you'd like feedback before purchasing anything, you can get that, too.
Websites that specialize in helping you create your wardrobe or just a single outfit offer advice, trend alerts, and stimulate your creativity.
Express Yourself
When you put together your own outfit, whether you wear it in real life or you just mix and match things on a website, you're expressing yourself. You may dream of creating a designer outfit but you can't justify the price tags to yourself. Put together an outfit, save it in your online account, and then scope out the site or stores for lookalikes. Save it as a point of reference for yourself and publish it so others can ooh and aah over your creation even if you aren't wearing it yet. Even if you can't design and create your own clothing, you can feel like a fashion designer.