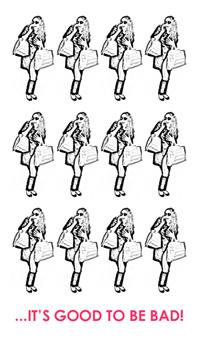 Bargain shopping will never be the same again, thanks to Bad Joan. I had the opportunity to speak Brooke Wilen, the founder of the online fashion haunt that specializes in overstock apparel and accessories from independent and up-and-coming designers. It's enough to thrill any shopping addict!
About Bad Joan
LoveToKnow: Brooke, thanks so much for taking the time to answer a few questions! Please tell us a bit about Bad Joan. How did the idea come about?
Brooke Wilen: I used to have a women's knitwear clothing line. I sold to a ton of boutiques across the country. But between cancelled orders and manufacturing difficulties I had so much overstock that it put me out of business. I tried to unload my overstock with places like Loehmann's, but my overstock quantities were too small for them. I realized I knew several other designers like me, independent lines where the overstock was eating into their cash flow. So I started Bad Joan as a way to help us all out! It was a very "one door closes, another opens" situation.
LTK: How did you get your start in the fashion industry?
BW: I started knitting when I was in college just as a hobby. After college I worked in the entertainment industry for many years and always knitted for my own pleasure in my free time. I would wear my pieces to work sometimes and get stopped by costume designers who would ask me where they could buy the piece or if I would make one for them. At one point, I just figured "why not?" Other people do it, why not me?! So I went for it, I quit my job and started a clothing line… several years later I ended up here!
LTK: What is the story behind the name? How would you define the typical "Bad Joan"?
BW: Joan is any and every woman. She's the "average Joan." She's bad because she loves fashion and shopping and it can get her bank account into a little bit of trouble. But at Badjoan.com it is always "good to be bad" because you're getting the same great fashion for amazing prices! Any woman who loves to shop, loves the rush of finding great clothes or who has spent a little too much on some fabulous clothes is a Bad Joan!
LTK: Your prices are amazing! How are you able to offer such great deals on these coveted labels?
BW: I work directly with the designers - there is no middleman. The idea is to get the designers their cost back so they can get some cash flow and work on future collections. Since the items are overstock or past season merchandise, it's not about making a profit - it's about unloading. In addition, I take a very small markup. It's all about keep the price low so the merchandise moves quickly and everyone wins, especially the customer.
LTK: How often does your inventory change? Do you have any specific criteria for the types of products you carry?
BW: New inventory comes in once a week. Our newsletter goes out first thing Thursday morning so that people will know about the new arrivals. It's good to get the newsletter because quantities are often very limited! I generally just try to carry things that I would wear. I don't put items on the site that I don't believe in or that aren't my taste.
Shopping and Style Tips
LTK: Do you have any tips when it comes to bargain shopping, whether online or in stores?
BW: The biggest trap with bargain shopping is buying something you don't love simply because it's a good deal. I think you should treat it like anything else you would buy. Don't get caught up in the hype of a sale, take the time to make sure you really like the item and that it's actually something you would wear. You can go broke bargain shopping just as easily as shopping at full price!
LTK: Possibly a tough question: What is the one garment or accessory no stylish woman should be without?
BW: That is a tough one! But I would have to say that these days every stylish woman needs a great pair of jeans in her wardrobe. They should fit great and the denim should be good quality. That way you can put them on with flip flops and go to the market BUT if the quality is good you can also put on some heels, a great top and fun jewelry and hit the town! Plus a pair of jeans will last you a long time and you can keep them up to date with trendy tops and shoes. A good pair of jeans goes a long way!
LTK: Finally, what does the future hold for Bad Joan? Any big plans on the horizon?
BW: We just launched Joan's blog, which I am extremely excited about! So far it's gotten a great reaction and I think it will really open up "Joan's world." I want people to interact more with Joan - she's a great character and she's got a lot to say about fashion! And of course we are always looking for new and fabulous lines to add to the site. We are branching out a little from clothing. There will be a perfume line on the site in a couple of weeks, and we are also looking into other areas like men's, children and home. So stay tuned!