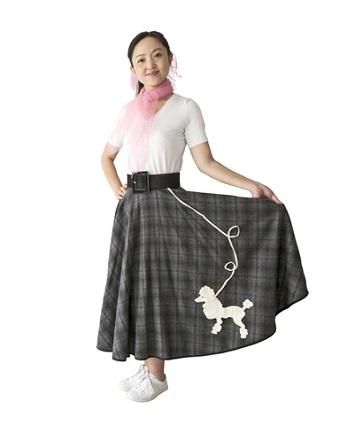 When it comes to feminine fashions of the 1950s, few items seem to exemplify the era as much as poodle skirts. For teenage girls who wanted to draw a strong distinction between themselves and their mothers, this fun and fabulous skirt was a great way to begin.
The Classic Poodle Skirt
A poodle skirt was traditionally a full circle skirt - already a nice change from the slimmer lines that wartime rationing had imposed. It was made of a brightly colored felt that could take an ironed-on appliqué, and the appliqué of choice was a lively little poodle, usually with a bow on its head and a sparkly leash attached that wound its way up to the skirt's waist. The poodle often had a sparkly collar and bright eyes, too.
This skirt, worn atop a crinoline for extra shape and swish, and as part of an outfit that included bobby sox, saddle shoes, a blouse and cardigan, scarf and a ponytail, remains one of the defining images of the 1950s, so much so that it is almost impossible to shop for a 1950s costume and not find a reproduction poodle skirt.
Not Their Mothers' Skirts
The 1950s began the era of the teenager as we know it. This was the first time that movies, books, gadgets, music and fashions were made and marketed specifically to adolescents. In previous generations, there had been "junior" fashions, but they were not very different from what adults were wearing. By the 1950s, fashion changed radically and teens had their own look. 1950s fashion for women certainly included a lot of novelty prints, and casual day wear might include a blouse and cardigan over a bright skirt, but an adult woman would not wear a poodle skirt under any circumstances - that was something just for the teenage girls.
Shopping for Poodle Skirts
As mentioned above, costume poodle skirts are ubiquitous and can even be bought in drugstores every Halloween. But these look as cheap as they are, so if you want something better for more than one night, you need to go elsewhere, which is ridiculously easy. Unlike with other vintage fashions, this is an item you don't necessarily want as an original - the glue from the appliqués tends to disintegrate and the felt pills, so it's the rare genuine poodle skirt that can still be worn well. But plenty of reproduction designers have these skirts available, and since the skirts are wide, you don't need to try them on so long as you get the correct waist measurement, making them an easy online purchase.
Here are a few good online resources for poodle skirts:
Annie Poodle Skirts is very handy for one-stop shopping. You cannot only buy a skirt in a variety of colors and background prints, you can also buy matching tops, scarves, belts, crinolines, saddle shoes and cat-eye glasses. You can even custom design your own skirt.
Hey Viv! offers a range of skirts in children's, adult's and plus sizes, along with matching tops and other 1950s reproduction pieces.
Rose K. Poodle Skirts also has a range from toddler to adult sizes and a number of accessories including a poodle purse.
Make Your Own Poodle Skirt
Even if you don't sew, you can probably still make a poodle skirt. There are plenty of Web sites offering patterns, including Free Applique, which has a very authentic poodle appliqué available, all ready for downloading. You can easily find a pattern for a circle skirt with an elastic waist if you don't want to bother with a zipper. Then all that's needed is a trip to the fabric store for the felt and whatever you wish to make the appliqué from - black fuzzy fabric is ideal - and probably an afternoon of crafting. Sure, it's more work than buying a skirt online, but it's worth it to have something uniquely your own.